UN experts accuse Libyan leadership of war crimes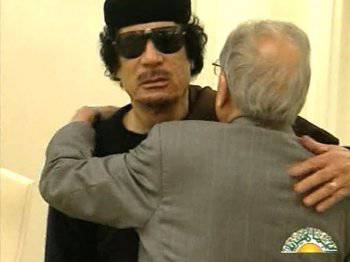 The government of Libya committed crimes against humanity and war crimes during the suppression of anti-government protests - this conclusion is contained in the report of the independent international commission to investigate cases of human rights violations in Libya. The report was presented on Wednesday in Geneva at the 17 session of the UN Human Rights Council (HRC).
During their April visit, members of the commission visited Libya, Tunisia and Egypt. They interviewed participants in the events in Libya - doctors, lawyers, military, visited hospitals, prisons, border settlements. In total, a document containing five thousand pages contains about 2,2 thousands of photographs and more 580 video footage, evidence from more than 350 people, including 113 doctors. As emphasized in the document, "the commission concluded that crimes against humanity and war crimes were committed by the government of Libya."
Members of the commission investigated cases of excessive use of force, extrajudicial executions, disappearances of people, arbitrary arrests, torture, sexual violence, attacks on civilians, medical personnel, journalists and humanitarian objects, restrictions on freedom of speech.
The commission also reviewed several reports on the violation of international law by the rebels, however, the experts did not consider it possible to designate them as war crimes.
The main UN human rights body is expected to review the report on Monday, June 6. The Commission was formed in accordance with the resolution adopted unanimously on February 25 at a special meeting of the HRC in Geneva. It is headed by UN expert on human rights from Egypt, Cherif Bassiouni. The commission also included Canadian Philippe Kirsch, who was the first chairman of the International Criminal Court, and human rights activist from Jordan Asma Khader, ITAR-TASS reports.
Ctrl Enter
Noticed a mistake Highlight text and press. Ctrl + Enter