Representatives of the so-called National Guard of Ukraine "corrected" information about the losses caused by the crash of a helicopter of the Ukrainian Air Force, shot down by the DPR militia. If acting The "president" Turchinov claimed that 14 soldiers were killed, then the national guardsmen counted the 12 dead. At the same time, the death of General Sergei Kulchitsky - the head of the department of combat and special training of the National Guard - is confirmed.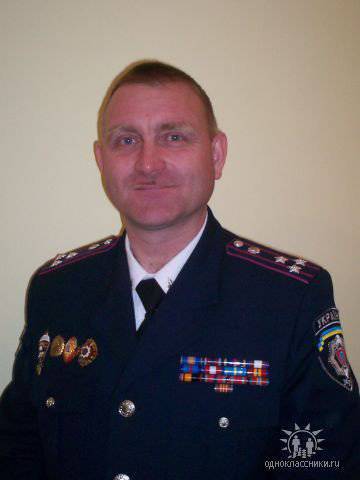 In the photo - Kulchitsky still in the rank of colonel ("Odnoklassniki.ru")
Representative of the National Guard under quotes
RIA News
:
As a result of the incident, 12 people were killed - six soldiers of the National Guard of Ukraine, including the crew of the helicopter, and six representatives of the special unit "Berkut". One soldier of the National Guard of Ukraine remained alive and in serious condition.
In response ... artillery and
aviation
shelling of the territory from which the fire was fired.
In the same message it is said that the "soldiers" of the National Guard allegedly destroyed all the militiamen who were preparing the attack of the helicopter. Where is the surviving national guard, is not reported.
Recall that a helicopter with representatives of the National Guard, including General Kulchitsky, was shot down by militias this afternoon near the village of Andreevka (DPR). The deceased General Kulchitsky grew up in the Far East. In 1981 he graduated from the Suvorov School and immediately entered the Far Eastern VKU them. Rokossovsky. He served in the Northern Marines
fleet
THE USSR. Recently in Ukraine he lived in the city of Lviv.
12 May 2014 of the year Kulchitsky was appointed to a leadership position in the management of combat and special training of the Internal Affairs Ministry of Ukraine. What made the general execute the junta's criminal orders? - separate
история
.