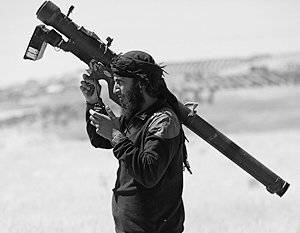 According to the newspaper
"Sight"
, commenting on the speech of President Barack Obama at the military academy at West Point, a spokesman for the US administration said that the United States supplied weapons to the Syrian opposition and are going to consider "the possible role of the American military" in Syria.
"We clearly said that we are providing military assistance to the Syrian opposition. We armed the Syrian opposition. We do not specify what this support is, "the representative said.
As notes the publication, while this information is not confirmed by other sources.
Earlier, the US publicly recognized only deliveries of "non-lethal assistance" to the commanders of the Syrian Free Army, which, in Washington's opinion, was supposed to "enhance their capabilities" in the fight against government forces.
"Non-lethal assistance" may involve a fairly wide range of goods - from medicines and food products to body armor and communications equipment.
Now the US openly admitted that they supplied the Syrian opposition with weapons. "We not only want to continue to increase (the size of the military) aid to the Syrian opposition, but also to discuss with Congress the possible role of the US military in these efforts," the administration official said.
On Wednesday, US President Barack Obama promised the Syrian opposition to increase support, adding that the US "should not send American troops to this civil war."
Earlier, media reported that Obama is considering a bill that will give the US military the opportunity to train the rebels. In addition, the United States can supply man-portable air defense systems to the Libyan opposition.
In turn, Moscow expressed concern, urging Washington not to repeat past mistakes.