May 29, 2014 Belarus, Kazakhstan and Russia signed an agreement, which can be called
historical
. This agreement gives a legal start to the existence of the Eurasian Economic Union (EAEU). The agreement was signed by the presidents of the countries that are members of the Customs Union - Alexander Lukashenko, Nursultan Nazarbayev and Vladimir Putin.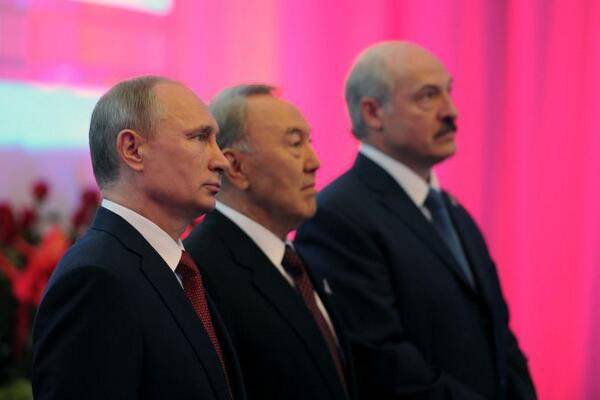 Russian President Vladimir Putin, after signing the treaty, noted that this is a completely new step in the integration of the three states, with full preservation of state sovereignty.
Vladimir Putin quotes
RIA News
:
The Eurasian Economic Union will work on universal transparent principles that are understandable to all, including the norms and principles of the WTO. The Treaty on the Eurasian Economic Union is fully ready for signing.
We provide close and well-coordinated economic cooperation and cooperation (...) Today we together create a powerful and attractive center of economic development, a large regional market that brings together more than 170 million people. Our union has vast reserves of natural resources, including energy. It accounts for one-fifth of the world's gas reserves and almost 15% of oil reserves.
The agreement on the creation of the EAEU officially comes into force on January 1, 2015.
The countries that have signed the agreement undertake a set of obligations related to the free movement of goods, capital, labor within the borders of three states at once. No customs, migration and other similar barriers of the EAEU in their borders do not accept.
In the near future, Armenia and Kyrgyzstan expressed their wish to join the agreement on the establishment of the EAEU.
Serzh Sargsyan quotes
Tengri news
:
Taking into account that it remains to work out 2-3 issue, on which compromise solutions have already been identified at the expert level, I ask you to set the date for signing the agreement on the accession of the Republic of Armenia to the Eurasian Economic Union agreement until 15 in June of this year. I understand that the term is very tight. In case of your readiness, I am confident that in the 2-3 of the day we can find mutually acceptable solutions that will suit us and our partners.
Almazbek Atambayev:
Of course, we would like to meet the New Year in the Eurasian Economic Union.