According to the information agency
"Vesti"
, 28 in May 2014 of the Year The 4 th Red Banner Center for Combat Use and Retraining of the Air Force of the Russian Air Force named after V.P. Chkalov in Lipetsk received four newest Su-35С multi-purpose fighters that were being developed at the Yu.A. Gagarin in Komsomolsk-on-Amur.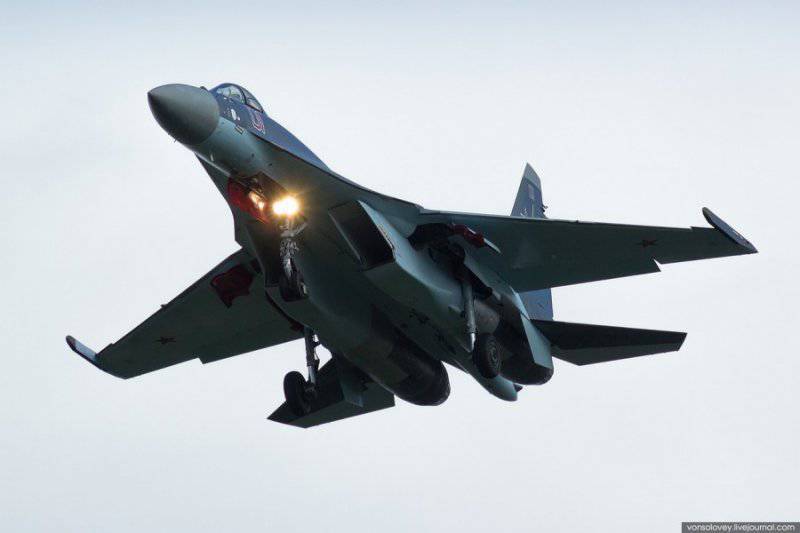 Su-35S delivered to the Russian Air Force as part of the state armament program. These fighters were built in 2012 under the contract of the Russian Ministry of Defense with OAO Sukhoi Company of August 2009, which provides for the supply of 48 fighters of this type. In January, the 2014 of the year, the aircraft went to work to bring them to the "technical face of the 2013 of the year."
According to Lipetsk pilots, who have covered 9 a total of thousands of kilometers, they did not feel any discomfort.
"You take off and immediately feel his craving at full afterburner. Further, on the maneuvers - no questions. At low altitude behaves well. It's just that the machine was created to fight on it, without looking at the cockpit, only by working with the sight, "said Vasily Akimovich, deputy head of the Lipetsk aviation center.
According to the pilots, these cars are the last step before the fifth generation aircraft. Su-35 comes to replace the front-line fighter Su-27, which differs primarily in on-board equipment, capable of solving new tactical tasks. In particular, the aircraft can fly at any time of the day and under any meteorological conditions.
"It seems that the plane looks like Su-27. In fact, it is completely different. His control system, weapons - absolutely new. Both principles and functionality are completely different. And the pilot should have a new approach, "noted Alexander Kharchevsky.
In the Lipetsk Aviation Center an important stage of research begins, the results of which will provide instructions for the further operation of fighters.