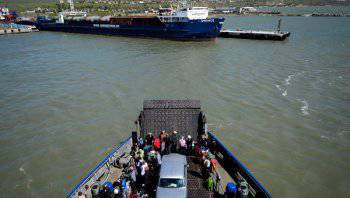 According to RIA
"News"
With reference to the newspaper Izvestia, First Deputy Prime Minister of the Republic of Crimea Rustam Temirgaliyev announced the resumption of negotiations with Chinese investors on the construction of a deep-water port, which could be spent around 3 billions of dollars.
For the first time, the construction of the port in Yevpatoria was discussed during the visit of the former Ukrainian President Viktor Yanukovych to China in December 2013. Participants in the Kievgidroinvest project and BICIM (Interoceanic Canal Investment Management Co) reported that at the first stage, China will invest in the construction of about 3 billions of dollars. However, after the crisis in Ukraine, negotiations were frozen.
"We intend to launch the project, but only when the extraordinary measures for the introduction of the ruble and the water supply of the peninsula are completed," Temirgaliyev said.
According to him, in-person meetings with representatives of the Chinese side should be held in August, as this is not a priority project. The issue of China's investment in Crimea was raised after the recent visit of Russian President Vladimir Putin to China.