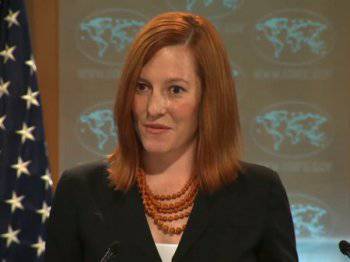 According to the
"RT in Russian"
, during the briefing, State Department spokesman Jen Psaki approved the actions of the Kiev authorities in the south-east of the country, as they maintain stability and order in their own country. In addition, in her opinion, the military operation of Kiev is not a solution to the problem in a military way. Also, Psaki recalled that the United States is calling for a solution to the crisis on the territory of Ukraine by peaceful means.
Responding to a question about civilian casualties, Psaki said that so far the US State Department has no concerns about this. She also failed to convincingly confirm the US version of the abduction of OSCE military experts by supporters of federalization.
According to political analyst Martin Siff of The Globalist research center, the United States does not respond to reports of civilian deaths during a special operation by the Ukrainian army due to the fact that Washington was caught off guard.
"If an operation of such magnitude with such losses was carried out by President Yanukovych before he was overthrown in February as a result of a coup d'etat, the United States and the EU, the Western countries would have angrily condemned him," said Martin Siff.
According to him, because of the actions of the United States, "civil war is spreading in Ukraine; The situation in the country is very serious. "