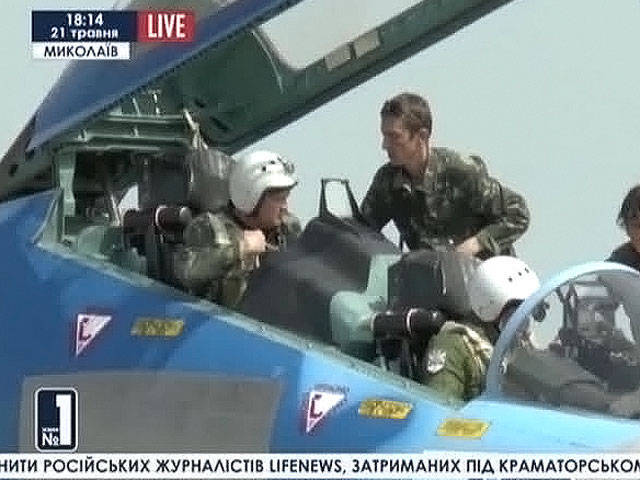 The combat aircraft that appeared on May 27 over Donetsk flew with a full set of outboard weapons and were ready to launch new attacks at any time around the city. Judging by the types of machines, for a punitive operation Kiev raised almost everything
aviation
parts that are in the country. These are at least three brigades and several dozen aircraft. But there are far fewer pilots: not everyone agrees to shoot rockets at civilians.
Heavy combat aircraft destroy Donetsk. Mercilessly Sighting. In the civilians and the militia fly missiles and lead. You do not need to be an expert to understand that professionals were driving helicopters and airplanes. As it turned out, to arrange a carnage, planes and helicopters were driven to Donetsk from almost all over the country. These shots today are discussed by the whole world.
"Su-25 participated, attack aircraft, which are in service with the 299 brigade in Kulbakino. There should be a total of 30 attack aircraft in total," says blogger Dmitry Shevchuk.
The 299 air force brigade of Ukraine is the only one equipped with Su-25 attack aircraft, which are ideal for strikes on the ground, have a reservation, so the question of their appearance in the area of ​​the so-called ATO was absolutely natural and we expect. There is information that in Donetsk there were pilots from the 831 brigade, which is based in Mirgorod, as well as fighters from the 114 airborne brigade from Ivano-Frankivsk. Only they, according to military experts, are armed with MiGi-29, painted in the colors of the Ukrainian aerobatic team "Falcons", which now does not exist.
Apparently, the bloodiest day in
stories
Ukrainian conflict was prepared in advance under the guise of military exercises. Just a week before the slaughter in Donetsk in Nikolaev, all three brigades that bombed the city practiced joint actions. Then they shot the entire combat arsenal.
Deputy Head proud of success. "We are working on a new type of training for military aviation, so that at the right time it can strike, help its actions with attack aircraft, to launch air strikes on ground targets," said Igor Cherepenko, deputy head of aviation of the Air Force of Ukraine.
As it turned out, entire squadrons of combat aircraft and helicopters, which were sent to Donetsk, were in service with the brigades. Mi-24 firing at the building of the Donetsk airport, on the roof of which there were militias. The full ammunition kit is the GSH-23 aircraft gun, which even pierces armor, anti-tank missiles and unguided C-24 missiles, the damage radius is half a kilometer. In the nose - the YakB machine gun, capable of producing up to 4 with a half thousand shots per minute.
Su-Xnumx. Under the wings he has self-guided and unguided rockets. Also, people in Donetsk shot MiG-25. Actions punitive clearly coordinated. On the eve, an audio recording appeared on the Internet, where you can hear someone giving instructions to the pilot how and
weapons
destroy civilians. "Now I'll come in, perform the first attack on it small. Now I'll come again just a little," the pilots' talks are heard. "I have one more visit. Small. You tell me if I need more projectiles to use. I have one more left, only large rocket left. "
Konstantin Sivkov, President of the Academy of Geopolitical Problems, Doctor of Military Sciences, commented: "They let in small ones - this apparently was about shooting at projectiles at rebel fighters of self-defense forces — this is an openly located living force. Heavy shells are large-caliber, as I mentioned. Defeat such a shell of a residential house will lead to the destruction of several apartments simultaneously with the death of all the people there. If several such shells hit the house, it will collapse completely. "
To believe in what happened is really difficult. The 299 brigade, which ruthlessly destroyed civilians, was formed on the basis of the Naval Aviation School of the USSR, which appeared in Kulbakino even before World War II, in 1938. Vladimir Deineka served there 13 for years, he went from being an ordinary pilot to a regiment commander. Frames, as his own part is destroying people, now looks with tears in his eyes. Vladimir Deineka - Commander of Naval Aviation from 1994 to 2000, Colonel General, Honored Military Pilot.
"This airfield was designed to receive all types of aircraft that were in the USSR, any type of aircraft and helicopters of any capacity," he says. "There could be a whole division there. I have friends in Donetsk, my classmates. We are not could not only imagine, we would never do that. This is terrorism, this is banditry, you can't call it any other way. "
The punishers themselves think otherwise. One pilot from Mirgorod posted on his page "VKontakte" a picture of the plane with the inscription: "Specialist in turning the" Vostok "battalion (with reference to the militia) to the" Shashlyk-Bashlyk Battalion ".
People in Donetsk are now trying not to go out again. They store food and are afraid that tomorrow they will wake up again to the sounds of gunfire and explosions.