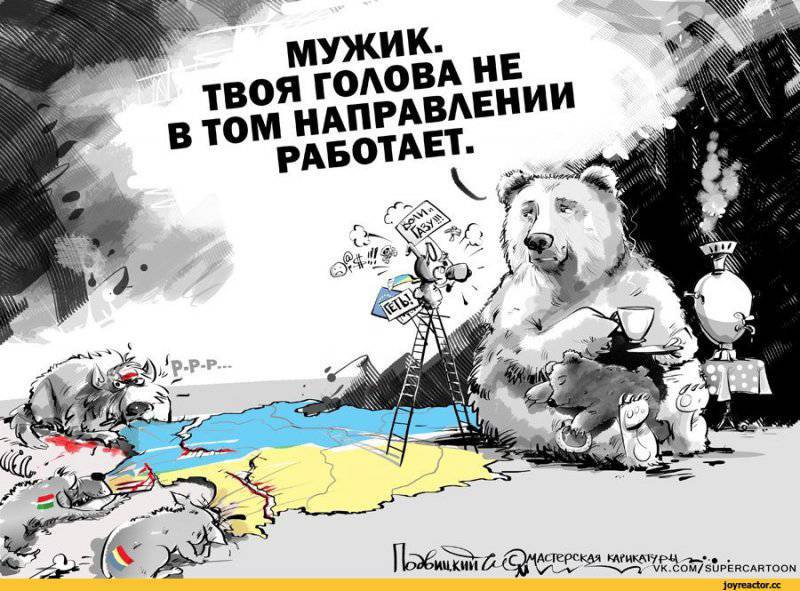 It seems that all of us have recently been a participant in some experiment. Who is its organizer - the question is even rhetorical. The performer is the so-called Ukrainian authorities.
It makes no sense to obmuse the question of legality, for it is clear that: the lads crowned themselves with power and began to induce movements. This is if the language of the nineties. Why is that? Yes, the style is similar.
The movements, or, in our opinion, experiment, are peculiar. As if by some kind of training manual "How to bring Russia to a white-hot?"
"And let's ban the Russian language in Ukraine and survive all Muscovites." And it was given. And power at the same time zahapali finally and irrevocably.
But here, obviously, the slip came out. "Suddenly," which turned out to be ready for such a mess, Crimea pulled out much closer, and sent much closer as assistants to very polite people and accepted. And now Crimea - to whom is the "temporarily occupied territory", and to whom it is even the subject of the Federation. Clearly not according to plan.
"And let's not pay Russia for gas." There is no type of money, the price is high, and in general. We will not pay. And we will take. And let Europe bite its nails there, and we won't pay anyway. Not 485 nor 287. From the principle. Let's see what the Russians will do there.
And Russia continues to drive its wealth through the pipe, without departing from the contract "neither by letter, nor by comma." True, it does, but you can spit on it. Pipe one hell will not block, Europe will not allow. And you can always take yours.
God bless her with the pipe. In the Kremlin, smart guys sit, they will figure it out without our arguments.
We go further.
"And let's try to shoot dissenters."
Have tried. It is clear that all these appeals to the OSCE and the UN, as they say, are water from a goose, foam from axes. In these offices, all their own, nothing to worry about. Russia is yelling for the whole world, but is it necessary for the world?
But here too the plug came out. It turned out that they are also able to shoot in Slavyansk. And on armored personnel carriers, and on helicopters. And by staff. Bad luck, however. Something is required as a continuation.
"And let us out of the guns ..."
It also happened. Mental hospital, school, temple. And again everything suits everyone around. Russia is yelling for sanctions. For more sanctions. And there will be more.
"And let's try the aircraft."
Implemented. Looked around. What? Again, everyone is happy with everything. The most important thing is what psaki will say. And she: "They have a right to this." Everything is fine, we continue. What is Russia? What are meetings in Europe? His affairs above the roof. Russia? And we promise to repay debts. Half. Soon.
About high precision
weapons
talked. But to him, paradox, we need heads and hands. I don't know, but it's not like about the Ukrainian army. Here are the Grads - they haven't used it yet. But with this approach, shooting from them is clearly not far off.
All this (except gas) is called one capacious word: genocide. And it is directed against the dissenting Russian-speaking population, and against Russia.
The most rotten in this
stories
the fact that Russia in any case loses. To continue the line of diplomacy and exhortations is already becoming ridiculous. All Europe deeply spit on all the initiatives of Russia. Implement a power line - so just waiting for it. All these PACE, UN, OSCE and other gatherings are not for us. This is all for them and for their sake. And to count on understanding and cooperation is just silly.
One thing is clear: you need to do something. For, flirting with the Kiev junta and tolerating European mockery, we will not get to anything good.
We finish the game.