Representatives of the people's militia of Donbass Stalingrad - the city of Slavyansk - declare that during the shelling of the city by the Ukrainian security forces heavily damaged the building of one of the local schools (school number XXUMX). The shell hit the school roof, leaving behind a huge gaping hole. In addition to the school building, residential buildings located nearby were also damaged.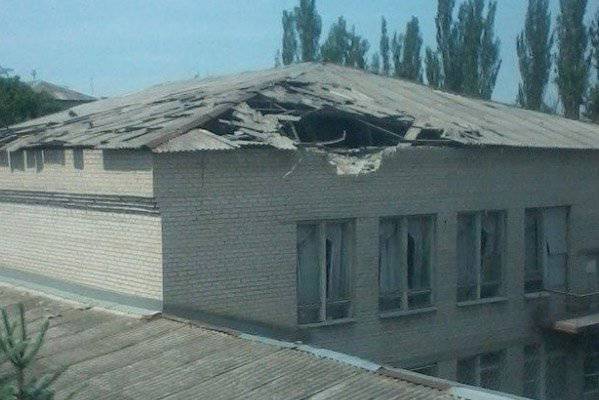 Correspondents of the company
RT
interviewed the teacher of the affected school. Here is what the teacher says:
In the area 12 hours there was an explosion. Clouds of dust swept through the corridors. We quickly began to collect the children who were currently in school, and took them to the basement. In the same place the pedkollektiv took cover. We spent about 15 minutes in the basement, then we went out and started looking at what happened.

The ITAR-TASS news agency suggests that the shelling was carried out along an intersection located about 150 meters from the school building, but the Ukrainian army is no different than the accuracy of fire, which leads to death and injury among civilians. During this firing, 4 people were injured.
The head of the press service of the ATO, Vladislav Seleznyov, in his usual manner, states that "members of illegal armed groups" fired at school and residential areas. Information by the press service is issued exclusively through Facebook.