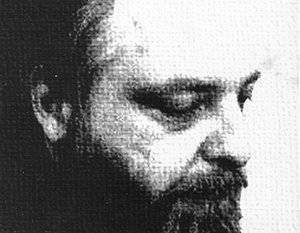 Within the framework of the "Club of Readers" project, the VIEW newspaper presents the text of our regular reader and commentator Vadim Banit, who retold a curious conversation with his friend dedicated to the "heavenly hundred".
The other day suddenly fell down an old friend with a half-liter.
I do not want to give a name (in order to avoid unpleasant consequences for him), and therefore I will call him, for example, Ulan (there is something cavalry in him) or simply - Comrade U.
My friend is a famous person. We know him from the last millennium. The article about him on Wikipedia is significantly larger than the average volume of articles on personalities - one list of publications - a couple of pages ...
Ulan is a journalist by profession. Under the Soviet regime, he wrote reports, articles, feuilletons, causing considerable public interest and resonance, and sometimes - and the corresponding reaction of the competent authorities. He was an instructor of the city committee / district committee / regional committee, the chief editor is not the last regional newspaper.
He allowed himself to deviate from the party line only once — under Gorbachev — for which he paid.
Independence of Ukraine accepted "with a bang!", Because it was naive.
He published at least a dozen different newspapers ...
Year of the commercials in 2003-m bought into anti-Kuchma propaganda and wrote many devastating articles.
The victory of the first Maidan was welcomed for a very short time - I quickly understood what was happening. He was disappointed in politics, seeing that even the then friends (like Yura Lutsenko) turned out to be one more scum.
He stopped writing about politics and returned to his favorite topic - ethno- and historiography. Shoveled mountains of archives. He became the author of dozens of books and hundreds of publications about the past of our region and about people who built the future, which later became our past.
In the process of crushing the small (and how else to call half a liter for two healthy men) and the subsequent polishing, we talked "for life".
At some point, the conversation went about the "heavenly hundred."
(Whoever doesn't know is the "heroes-patriots" of Ukraine who sacrificed their lives on the Independence Square in Kiev for the triumph of freedom, democracy and European integration of 20-22 of February of this year. The bullets of the "Berkut" aimed at the bloody Yanukovych regime life).
This
history
comrade W. told me about the "heavenly hundred". Under my periodic asses and leading questions:
- Initially, I wanted to write a short note about only one of the heroes of Maidan - a resident of our city. Who he was, what is famous, how he studied, where he worked ...
- So what?
- And nothing. He studied poorly, was a hooligan - he was repeatedly involved, did not work anywhere, did not serve in the army.
- Is it really true?
- At least, I received such an answer from official sources.
- But after all on TV he was glorified, like a new Christ!
- Do you believe Ukrainian TV?
- I, of course, do not believe, but after all they glorified ...
- They glorified them ... They would not glorify them ... Do you even know how much their teacher and classmates were bashing for this interview? In terms of airtime, several of my or your monthly pensions will be released ... Is it difficult to learn the text and pronounce it on camera with the fifth or tenth double?
- Easy.
"This is easy for you or me, and it's difficult for them — even what went on the air is full of text memories, stutters and stutters."
- So what is next?
"And then, after making sure that this particular" hero "is still a hero, I sent similar requests to all regional, urban and rural archives, to all schools where the aforementioned and listed" heroes "studied. The answer shocked me!
- With what?
"What with what ... But with those ... It turned out that no one can say anything good about the" heroes ". That they are all hooligans, idlers and parasites; and those who are older are homeless people who have long drunk up the housing allocated to them by the Soviet authorities, and, again, hooligans, idlers and parasites. Many were judged by especially grave articles: harm to health, rape, murder.
- That is, you want to say that the junta puts on such "heroes"?
- Nothing like this! The junta consists of clever scoundrels and scum, and these sheep for her - cannon fodder.
- And what about the "Right Sector"? Hundreds of Maidan - almost 20 of them already?
- And no way. Grinding rams, the junta will take up the goats.
- It is logical ...
- What is logical? The junta throws in the South-East not only detachments from the Pravosek and Nazi Guard, but also normal guys - draftees.
- And she kills them for refusing to shoot at peaceful people.
- How else? She is a junta ...