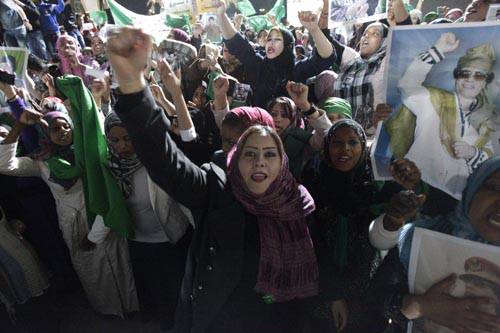 My name is Khalid Mohammed, a Libyan. I want you to know how the Libyans feel, how we think, how we speak, you think we will plead for peace? No, we are ready to fight for peace, we are ready to live with honor under one flag, having received a team from one leader and no one can take the place of Gaddafi, he is our greatest symbol, he is our glory, he is pride.
You do not know what Gaddafi means to us. Do you think wealth and drinking is the meaning of democracy? What kind of democracy are you talking about? We do not need your democracy, because we are Muslims and we have our own traditions, our own faith, we have our own pride. Our children grow up learning our religion, looking forward, respecting others. We teach our children not to interfere in others problems, but helping to solve them, we teach our children how to avoid sins, how to respect our land, how to protect our land, how to be closer to God. Why Do you think we are dying to be rich? What is money? We don't care about material things. Moreover, if NATO came and asked for oil, believe we will give it for free, But NATO is trying to get oil by force, we cannot be silent and we will not. We will talk, we will act, we will FIGHT to liberate our lands. We will kill too, we will open the gates of hell. Because no one dares to touch our land without our permission.
After all this suffering. After all these manipulations, after all these lose which became the result of the lie unleashed by the media, after the adoption of the resolution in the UN Security Council, the world is so ugly before our eyes. No security, no mercy, disgusting acts of aggression from NATO. The people living in NATO member countries, and all the rest, we are witnesses. You just watch on TV. Protection of civilians? or killing civilians? No pride, no honor in these actions. These actions by NATO leaders show that their task is to bring death!
Children are killed by rocketts, women lose their sons, wives have lost their husbands, you succeeded in killing people, I want you to know that the whole world becomes a jungle, only the right of the strong. Each state in the world shows how they contribute to this.
Libya is suffering today and all governments are contributing to this conspiracy. West buys your governments for oil. Do you need oil only? Are you killing Gaddafi for oil? Do you kill Gaddafi because he does not want to be a slave, like some leaders in the United States? You're lying, that he killed his people. Why didn't he kill my father or one of my family or friends? You accuse Gaddafi that he killed his people at the same time YOU are real killers! NATO and the governments of all countries that support NATO. You are responsible for these multiple losses. Why do you destroy schools? why are you destroying the hospital? why are you destroying the roads? Do you want your companies to come to repair the damage caused by you? and get it money?
You are a shame for all mankind, shame for such a democracy, Shame for your actions, shame for all that you have imagined, shame for you forever. Today, you have the power to kill, tomorrow on Judgment Day you will call for help from NATO? or America? God is one !
One God who is invincible!
The one who created all human beings
who will burn all those killers!
You laugh today, but tomorrow we will see you.
All have the same power of God. You only have air strikes and missiles. so let's see who will be the winner!
The last words I will say, I am so proud of Gaddafi, I want you to know how I feel. I feel glory because we stand against great power. I feel glory because we fight more than with the state.
I love Gaddafi, because he made me feel it. If I had died I would have become a martyr and lived in paradise, in heaven, where neither NATO, nor Obama, nor the United Kingdom, France, NO. There will be only good people who serve God to live in paradise, but you who serve NATO and the US paradise is lost for you, you only have hell the place for you.
(Translated by Olga Sokolova)