"Ukraine got on its knees. Look at this picture. What a shame, but how well it demonstrates Ukraine's obedience to the West," Ukrainian journalist Vladimir Skachko writes on his Facebook page today. And publishes a photo: the Ukrainian general - kneeling - hands
weapon
former US ambassador to Ukraine.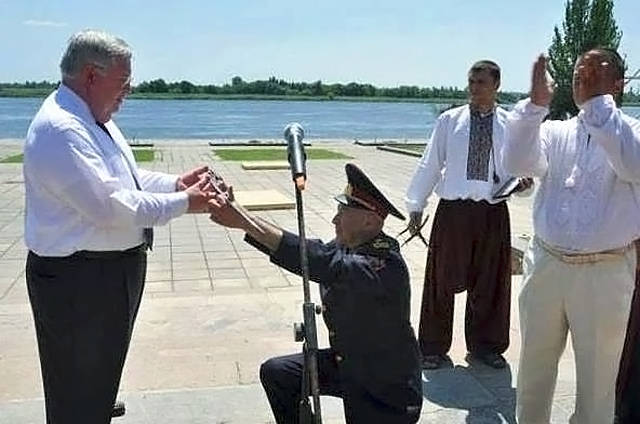 "According to custom, when they gave a saber, the one who was given was to kneel, not the one who gives. (...) Imagine: the general gives the award saber for bravery to the lieutenant and the general himself kneels and the lieutenant stands ... Absurdity! Moreover: from the knees the victor handed the personal weapon to the winner, "explains the journalist.
He also adds: "This is generally the standard custom of surrender of both the Middle Ages and the New Age ... A beautiful illustration of the obedience of Ukrainian politicians."
Apparently, this gift is accepted by former US Ambassador to Ukraine John Tefft - a diplomat who will probably replace Michael McFaul in Russia. At least, it is his candidacy for the post of US ambassador to the Russian Federation that is called the most likely.
However, as Vestam.Ru bloggers "in the subject" explained, this photo was taken not on these May days (as one might think), but earlier - in November of 2013. That is, before the start of the most active phase of Euromaidan in Kiev. However, this does not change the essence of the matter: in the picture is really the ambassador (then still) of the United States to Ukraine, who is accepted into the "Cossacks".
"The photo you see captured the key moment when Kozak was receiving the glorious monk of Pan John Tefft, the good Baptist and the US ambassador to Ukraine," says a commentary on this photo on one of the Ukrainian portals.