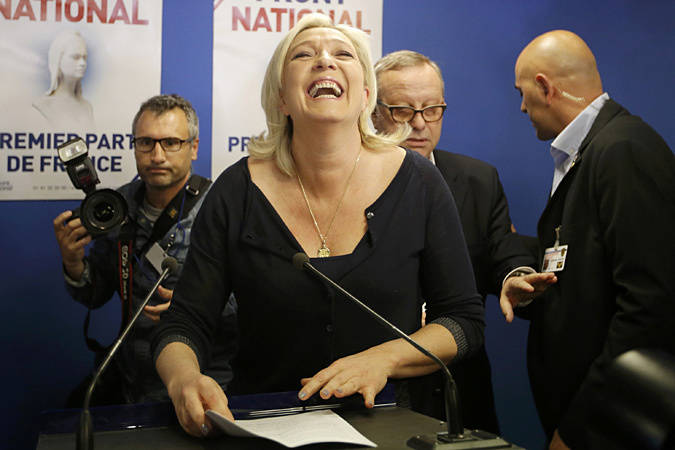 In the elections to the European Parliament won the "anti-Brussels" party
Remember, a couple of months ago, the US emissary in Kiev, Victoria Nuland, dropped her F ... k EU, the European Union - na ...? This appeal came to the heart of a European voter. On Sunday, elections were held in the European Parliament. There was no such! The ruling parties of many key countries failed in disgrace. The peoples of Europe sent the European Union as far as ever.
The "Anti-Brussels" parties, as the world media called them, won in Great Britain, Germany, Austria, Greece, Denmark, Belgium, preparing for the separation of Spanish Catalonia ... The elections in France are especially important. "Germany is the economic heart of Europe, and France is the political heart," said the winning Lean Marine Le Pen. The French supported her party the National Front as the main force in the country.
Speaking against the European Union, against NATO, against the alliance with America - and for friendship with Russia. Moreover, Marine Le Pen approves of Putin's course in Ukraine and reunification with the Crimea. And even the sexual tradition of the Russians, which the American official calls persecution of gays. Notice, her opponent, President Hollande, became deeply unpopular in France, including because he threw all his forces into forcing the French into same-sex marriages. It got to the point that schoolchildren were forced to come to school in dresses.
The socialist Hollande turned out to be the same American poodle as his right-wing predecessor Sarkozy (he returned France to the military structures of NATO, from where de Gaulle had brought it in due time). When the Maidan flared, the government of Hollande supported the insurgency and participated in the overthrow of Yanukovych. When the Americans demanded not to deliver the Mistral helicopter carrier made and paid to Russia, Hollande took it under the hood. France Hollande agreed with the US-imposed sanctions against Russia.
The gas contract signed by Putin in Beijing opened his eyes to the Europeans. He showed them that they could not break Russia with sanctions. The party of Hollande received so few votes in the elections to the European Parliament that Hollande and his ministers needed only to resign. In the case of a general election, there is a chance that the European Union will be buried, and the American occupation of the Old World will become a thing of the past.
Marine Le Pen managed to correct the excesses of his venerable father - the old paratrooper often skidded, but his heart was in the right place. If she succeeds in returning independence to France, we can thank citizen Nuland: without her cookies on the Maidan, who knows how much more festering abscess of the European Union would have blown out without bursting.