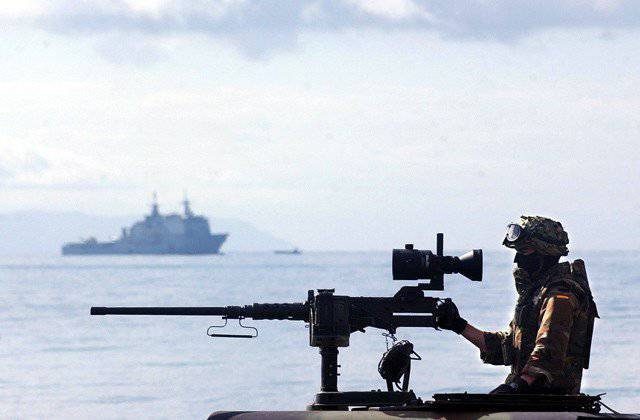 In relation to North Africa, the armed forces of the two states in the Pyrenees may suddenly be at the forefront for themselves
Spain is one of the largest European countries - members of NATO and the EU. Accordingly, its armed forces (AF) are also among the largest in the region. Spain has a fairly well-developed military-industrial complex capable of producing military equipment of almost all classes on its own projects or on foreign licenses.
At the same time, the country did not bypass the general trend of reducing the military potential, aggravated by the difficult economic situation and the deep logistical position of Spain.
Spanish Armed Forces
Ground forces have a rather complicated organizational structure and include several military branches. The heavy forces include a cavalry brigade, two motorized infantry brigades, an armored infantry brigade. Light forces include an airmobile brigade, a light infantry brigade, a Spanish legion brigade, a mountain command, and an airborne brigade. Support forces include a communications brigade, field artillery command, air defense, army
aviation
, engineering troops, special operations.
In addition to these forces stationed in the main territory of the country, there are regional forces. These are the garrisons of the African enclaves of Ceuta and Melilla (each with one armored cavalry, the Spanish Legion, light infantry, artillery, engineering regiment), command of the Balearic Islands (light infantry regiment), command of the Canary Islands military zone (light infantry brigade, air defense regiment).
Tank
The park includes 327 modern German "Leopard-2" (219 A5E, 108 A4) and 73 old American M60A3TS, which are gradually being written off.
Additions to the tanks are 84 Italian heavy armament combat vehicles (BMTV) B-1 "Chentauro" with 105-mm gun, there is also 209 combat reconnaissance vehicles (BRM) VEC-3562. The 356 of the newest BMP Pizarro of the Spanish-Austrian development is in service, as well as more than two thousand armored personnel carriers - 1313 American M113, 90 Swedish Bv206S, 672 domestic BMR-600 / M1, 185 Italian LMV, 100 South Africa, African Africa.
The artillery is armed with 227 American SAUs M109А5 (155 mm), more 300 towed guns, about 1,5 thousand mortars, 14 domestic MLRS "Teruel" (140 mm).
The troops have 236 of the latest Israeli Spike-LR ATGM, 448 of old French Milan (including self-propelled 113), American Tou 200 (including 74 self-propelled).
Ground defense includes one battery of the American Patriot (8 PU) and seven batteries of the Advanced Hock air defense system (42 PU), 39 short-range air defense missile system (13 Italian Skygard-Aspid, 18 French Roland, eight Norwegian NASAM) , 180 French Mistral MANPADS, 91 Swiss anti-aircraft gun GDF-005 (mm 35).
Army aviation has six newest Franco-German Tiger helicopters (to be 12) and 49 German Wo-105, as well as more 100 multi-purpose and transport helicopters.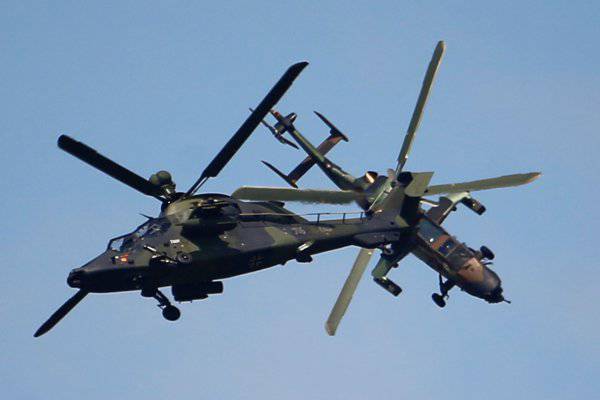 Combat helicopter "Tiger". Photo: Francois Mori / AP
The air force includes three air command: combat, general purpose, Canary Islands. The 43 is the newest European fighter "Typhoon" (including 10 training and combat; there will be a total of 87) and 87 American F-18 (75 A, 12 training and combat). In addition, there are 19 old American combat-training aircraft SF-5M (based on the F-5 fighter). The 40 of old French Mirage-F1 fighters, 27 of very old American F-4C fighters and nine RF-4C reconnaissors are in storage.
The basic patrol planes can also be attributed to combat - four US P-3, 11 own CN-235MPA.
The arsenal consists of five American tankers KS-130Н and four aircraft EW "Falcon-20". There are more than 100 transport, 110 training aircraft, about 50 transport helicopters.
The Spanish Navy includes three submarines of the Galerna type (French submarines of the Agosta type, one more has been decommissioned
fleet
and serves as a source of spare parts for the rest). To replace them, four submarines of the S80 type are being built (French of the Moray type).
The only aircraft carrier "Prince of Asturias" was withdrawn from the Navy due to lack of funds and, apparently, will be sold abroad. Therefore, the basis of surface forces are frigates. These are the five newest ships of the Alvaro de Bazan type, six of the Santa Maria type (similar to the American Oliver Perry), four types of the Descubiert (the latter are sometimes classified as corvettes).
There are 17 patrol ships and boats, six minesweepers, one ship control trawling forces (the former frigate of the "Descubiert" type). Landing forces include UDC "Juan Carlos" and two DTDs of the type "Galicia".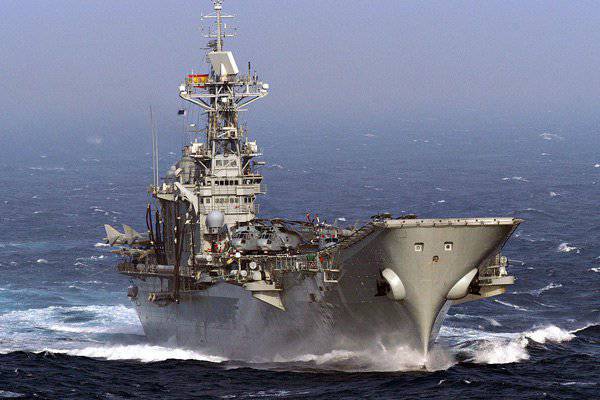 The aircraft carrier "Prince of Asturias".
All ships, boats and submarines of the Spanish Navy, including foreign projects, are built in Spain itself.
Naval aviation is armed with X-NUMX fighter jets with vertical takeoff and landing of the AV-17 B Harrier (including one combat trainer). After the withdrawal from the fleet of the only aircraft carrier, their fate is unclear. There are also four transport aircraft, 8 anti-submarine helicopters (17 SH-12В, 60 SH-5Н), three DRLO helicopters SN-3Н, 3 multi-purpose and transport helicopters.
The marines consist of one brigade. It is equipped with 17 tanks М60А3ТТS, 39 of Swiss armored personnel carriers "Piran" and 19 of American ААV-7А1, six SAU М109А2, 12 of towed 12 М-56, XRNXXX, XYNXX XYUM 24 towed guns.
There are no foreign troops in Spain, but the United States Air Force and Navy use the Moron air base and the Rota naval base on a regular basis.
Portuguese Armed Forces
Another country of the Iberian Peninsula, Portugal, traditionally had an army of low potential. After the end of the Cold War, it is, paradoxically, somewhat intensified due to the supply of used equipment from the USA, Great Britain and Holland and the purchase of new Austrian armored personnel carriers and German submarines. Thus, the country went against the general trend of a significant reduction in the Armed Forces. However, the Portuguese army still remained very small. The Portuguese military industrial complex is also symbolic.
The ground forces have a mechanized, airmobile, light infantry (expeditionary) brigade, army aviation group, command of the military zone of Madeira Island (two infantry regiments), command of the military zone of the Azores (one garrison infantry regiment). There are also three cavalry, three artillery, seven infantry, two engineering regiments, which are not combat units, but training structures.
The tank fleet includes 37 modern German "Leopard-2А6" (obtained from Holland), as well as 187 of old American machines - 101 М60А3 / 4, 86 М48А5.
In service is 90 BRM (15 own V-150, 38 M11 French, Austrian 37 "Pandur", including 33 105 from BMTV-mm cannon) and 500 APC (American M277 113, 81 own V-200, 142 Austrian "Pandoor", including 30 with 30-mm gun).
Artillery includes 23 American SAU M109, 158 towed guns, 334 mortar.
There are 197 ATGMs - 87 "Milan" (including six on the BRM M-11), 110 "Tou" (including 22 on the BTRX NUMX, 113 on the BTR "Pandoor").
Branch VOP includes 37 US SAM small 'Chaparel "range, 45 American MPADS" Stinger ", 34 US same SoL M163 (20 mm), 92 anti-aircraft guns - 30 German Rh202 (20 mm), 62 Swiss L-60 (40 mm) .
The BBC is armed with X-NUMX American F-30 fighters (16 A, 26 B; seven more A and two B are being trained for sale to Romania). In addition, Alpha Jet combat training aircraft can be used as light attack aircraft (nine in service, 4 is still in storage). Also 33 base patrol airplanes can be classified as combat aircraft - five US P-12C (still 3 P-4Р in storage), seven Spanish C-3M.
The Air Force has 14 transport aircraft (six US C-130H and three Falcon-50, five Spanish C-295М) and 22 training aircraft, 19 multi-purpose and transport helicopters.
The Navy has two newest German submarines, the 214 Ave., two modern frigates of the type Bartolomeu Dias (Dutch type Karel Doorman) and three types of Vasco da Gama (German types MEKO 2000), as well as six older frigates of their own buildings that are sometimes classified as corvettes are four types of "Joao Coutinho", two types of "Baptista de Andrade" (another one in reserve). Enough modern are two patrol ships of the type "Viana do Castelo." There are 15 patrol boats and a small landing ship of the Bombard type.
Naval aviation consists of five British helicopters "Lynx" Mk95.
The Marines include two battalions and a special forces group. Armed with 15 BAND "Pandoor" and 32 120-mm mortar.
There are no foreign troops on the territory of Portugal, although the United States regularly uses the airfield in the Azores.
Are Spain and Portugal ready for chaos in North Africa?
The current military potential of the two countries deep in the back of NATO is more than enough for limited participation in collective overseas operations, while the alliance is not engaged in anything else and is not going to be engaged. However, in the deep rear they are in relation to Russia, the war which relates to the field of science fiction.
But in relation to North Africa, Spain and Portugal may suddenly find themselves at the forefront. Now it also looks fiction or nonsense, but not the fact that in the foreseeable future the situation will not change. For Arab countries, there is always a threat of chaos or radical Islamization, and both will directly and directly affect the security of their neighbors.
But even without such dramatic scenarios, the military balance in the region is changing rapidly. The land forces of Morocco or Algeria (separately) are already today stronger than the land forces of Spain and Portugal combined. If current trends continue, a similar situation will soon emerge with regard to the Air Force. Of course, it is difficult to expect from the Arabs "reverse Reconquista", but after a while they finally stop looking at the Europeans from the bottom up. Because they have more and more reason to look from top to bottom.