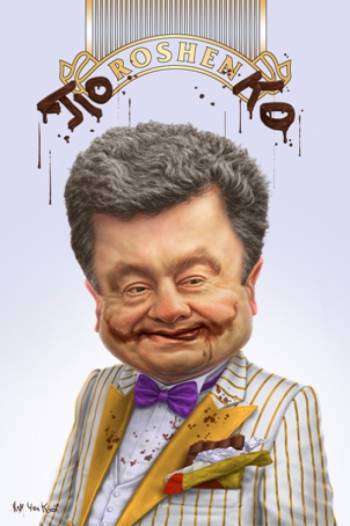 The accession of Petro Poroshenko recalled the affairs of bygone days of the last century. Namely - Khodynka. And if Nikolay Romanov, who later received the nickname "Bloody", more than fully paid for his sins, then it will obviously be more difficult for Peter Bloody.
The softest and seemingly not rabid of the contenders for the throne "suddenly" announced that the ATO should be forced. And not just to force, but by supplying the army with the latest weapons and means of protection.
A kind of fireworks gave the new president. And he demonstrated absolutely understood methods of preserving the integrity of Ukraine.
The last illusions were probably destroyed along with the airport and the stadium. From the rearrangement of political figures in places, the meaning of the party has not changed.
The war until the complete destruction of dissidents.
If you look into the events that took place in Donetsk, there is a direct consequence of the fact that for two months the Donetsk authorities dealt with posts and competed in the voiced statements, without solving the main task - the issue of the army and control of the territory. Yesterday she faced reality. They will kill everyone.
Again, it is clear that the young republic has too little power and resources to take control of Donetsk and its suburbs. In any case, it was not enough. Now the arrival of volunteers has begun, there is an entry in the militia, a man who is able to not only give interviews (the Borodai fought and attacked with a machine gun yesterday, heads the government). Generally somewhat naive, but psychologically, he showed who is who. Although death from a stray bullet would hardly have been helpful.
However, the Donetsk management paid a very high price for their previous mistakes. Militias killed, civilians killed. Punishers quite effectively proved that only the liberation of the territory from their presence can guarantee minimum security. It is important that people's deaths are not in vain.