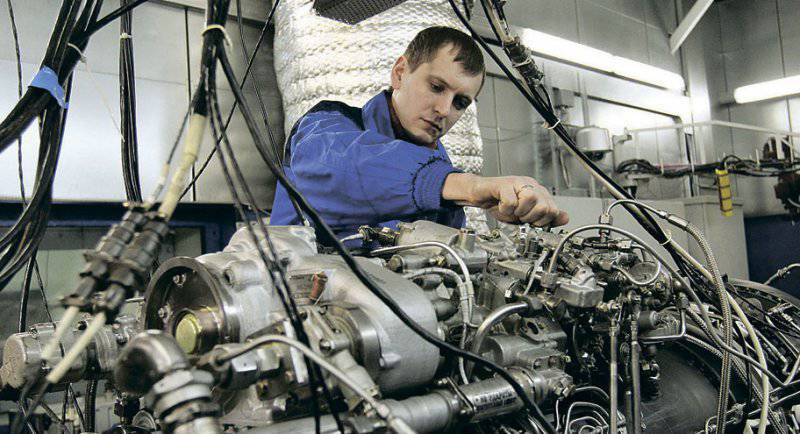 In fulfilling the task of total import substitution when creating new weapons, our MIC should not overdo it. It is necessary for the country to get rid of critical dependence where it is possible, but to keep the established connections where it is necessary
At a meeting in Sochi, Vladimir Putin instructed the Ministry of Defense and the Military-Industrial Commission under the Russian government to develop a set of measures aimed at replacing imported products in the domestic defense industry. "This will be associated with small additional funds that will need to be allocated to solve the problems of import substitution, but in the end it is the right process," Putin emphasized. The head of state emphasized that "we must do everything to ensure that everything that the Russian military-industrial complex needs is done on our territory and that we are not dependent on anyone in any of the areas of re-equipment of the army and
fleet
new weapons systems. " Putin expressed confidence that this would only benefit Russian industry. The motive of the presidential appeal is extremely simple - to save in the long run our defense industry from the influence of any sanctions by foreigners. The problem is that Putin's instructions can be fulfilled only partially and not earlier than in three to four years.
Dear scrap metal
Recall that because of the ban imposed by the current Ukrainian authorities on cooperation with Russia in the field of military-technical cooperation, at least two branches of our military-industrial complex were under a powerful blow. This is almost all helicopter and production of surface ships - from corvettes to frigates and destroyers. Moreover, the ban itself, as Ukrainian First Deputy Prime Minister Vitaly Yarema honestly said, was introduced at the initiative of Western partners, who demanded that Kiev break the military-technical cooperation with Russia.
Most of all, this ban hits the United Shipbuilding Corporation (USC), which buys marine gas turbine engines in Ukraine. These installations are made by the Nikolaev state enterprise "Zorya-Mashproekt", all our new ships of the near and middle ocean zone are equipped with them. Moreover, in the world such engines besides Ukrainians are still being made by only two companies - the American GE and the British Rolls-Royce. As part of the state defense order, USC should produce six frigates of the 11356 project for our Black Sea fleet. These are almost exactly the same ships as the ones that we built for India in the middle of the last decade. But since now they are being built only for us, Zorya-Mashproekt has stopped shipping turbines to Russia. True, officially the Ukrainians do not refuse to execute the contract, but the timing of the supply of engines for the second frigate has already been frustrated and there are no comments from Ukraine on this issue. The first of the new frigates, the Admiral Grigorovich, was launched from the Kaliningrad Yantar slipways in mid-March of this year and is currently undergoing design tests. The remaining five ships are in varying degrees of construction, but it is clear that if Zorya-Mashproekt fails to fulfill the contract, all these frigates will turn into very expensive scrap metal. "In principle, there is a theoretical possibility of redesigning these frigates for diesel, but how much time and money it will take is now difficult to predict," said Konstantin Makienko, deputy director of the Center for Analysis of Strategies and Technologies. In Russia, marine gas turbines have never been produced. However, the situation is not hopeless. As the head of the United Engine Corporation (UEC), Vladislav Maslov, reported, in Russia, the M70 and M75 turbines have already been developed, and now they are being adapted to ships. "It is quite realistic to speed up these works. This is not a decade, it is a short time, "said the head of the JDC. But how much investment it will take and where the installation will be organized, Maslov could not say.
Two billion and four years
The situation with engines for helicopters is a little less critical. In Ukraine, they are produced by the private Zaporozhye company Motor Sich. Its products are installed on almost all of our helicopters, except for the Ansat, Ka-62 and Ka-226. The light Kamov vehicles, which are not yet produced in large series, are supposed to be equipped with French Ardiden 3G engines from Turbomeca. We also have a new Mi-38 helicopter, which is supposed to replace the Mi-8 / Mi-17 and be equipped with engines from Pratt & Whitney Canada. But the Canadians are constantly disrupting the supply of engines, as a result of which the Mi-38 is still not produced even in small series. But the production of all other helicopters is almost entirely dependent on the supply of Motor Sich products. And so far, this enterprise is strictly and fully fulfilling all its contractual obligations to Russia. Now the Cossacks are fulfilling a five-year contract worth 1,2 billion dollars for the supply of 270 TVZ-117 helicopter engines to Russian Helicopters per year. In addition, Motor Sich supplies AI-222 engines for Yak-130 training aircraft.
At this stage, we have nothing to completely replace the Ukrainian engines. The Klimov enterprise in St. Petersburg produces up to 300 helicopter engines a year, of which 250 is in close cooperation with the same Motor Sich. And only about 50 helicopter engines are produced entirely from Russian parts at Klimov. Thus, in the event that the supply of engines from Ukraine is stopped, Russian Helicopters will be able to produce only three to four dozen helicopters per year, that is, they will be forced to cut production six to seven times. True, the Russian authorities hope that this will not happen. "We have a lot of joint plans with the company Motor Sich, and we hope that all of them will be implemented," said Russian Deputy Minister of Industry Yuri Slyusar. True, at the same time he noted that a program for import substitution of helicopter engines is already being implemented in Russia. "Our task is to reach the end of 2015, the beginning of 2016 of the year, on the production of 350 helicopter engines fully produced in Russia," said Slyusar. But if we take into account that the requirements of Russian Helicopters for engines are 550 units per year, it is obvious that the measures taken will still not be enough. Full independence from Ukraine in these components will cost Russia about 2 billion dollars and will require at least four years. "The fact that it was necessary to quickly develop our own engine production was clear as early as 2004 during the Orange Revolution, but nobody was in a hurry to do it," says Konstantin Makienko. Now the situation is much worse, because not only the execution of the state defense order, but also our export contracts for the supply of helicopters abroad may be in question.
Not all can do
If our defense industry can still learn how to manufacture marine gas turbine installations and helicopter engines, then we are no longer able to master the production of high-tech machines and measuring equipment, onboard electronic equipment, some materials and components. It is no secret that, for example, at the Votkinsk plant, where Topol-M, Yars and Bulava missiles are manufactured, more than half of the machines are of Swiss, Czech, French and even American production. Almost all of our newest Su-30 and MiG-29SMT type fighters, which receive the Russian Air Force, are equipped with French avionics. On them, as well as on some warships, in particular, there are autonomous navigation systems Sigma 95 manufactured by Sagem, which have no analogues in our country. "These products are supplied to the plant in Ramenskoye, where it seems to be built into the ready-made onboard complex of Russian origin. But in fact, there the French systems only check for the presence of "bookmarks", "an informed military expert told us.
Another thing is that the French, even under pressure from the United States, will not stop selling their systems and subsystems to Russia. This was clearly shown by the situation with the Mistral helicopter carriers, which we acquired from France for almost 1,2 billion euros. Despite the direct wish of the Americans to break this contract with Russia, the head of the French Foreign Ministry, Laurent Fabius, said that from a legal point of view there is no such possibility. French President Francois Hollande, after meeting with representatives of the shipyard's trade union in Saint-Nazaire, where Mistrals are being built for Russia, publicly promised that "the contract with Russia will be executed unchanged and completed in October."
"The French are very profit-oriented people. They will verbally agree with the Americans on everything, but they will not stop selling their systems to us, since cooperation with Russia has already gone very far, its termination or even suspension will result in huge losses and mass layoffs, "explains Konstantin Makienko. So in this regard, we are not particularly afraid of sanctions. As for the issue of total import substitution, even the US defense industry is not capable of producing the entire product range for the Pentagon - Americans buy a whole range of products and components from the British, Canadians, Germans, and so on. True, the US's dependence on these countries is not as critical as we are on Ukraine or France, and if necessary, Americans will be able to start virtually any production of the most advanced systems in a few years.
In our case, excessive zeal in this matter may lead to the fact that the set goal, although it will be finally fulfilled, but in terms of quality and, most importantly, in terms of technical level, Russian weapons systems will be inferior to the best world analogues. In this sense, the example of the DPRK is quite indicative. This country produces all its weapons exclusively with its own forces, but in practice it will not be possible to win a more or less serious war with it.