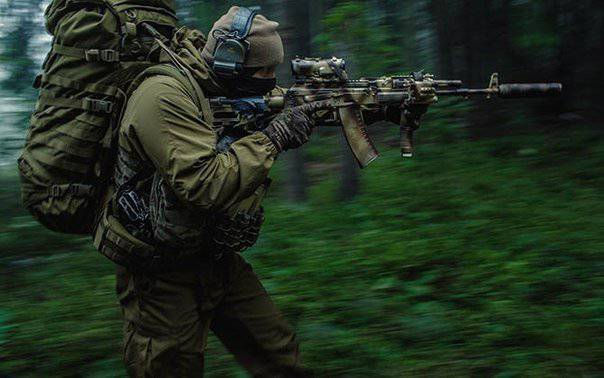 Interesting material on the topic of practical advice for those who do not have the proper skills, was going to go to war in the Donbass.
Tips for those civilians who decide to go to war:
The following advice comes from a former employee of the GRU, hiding under the nickname Raccoon. Unfortunately, all contacts with him are lost. The scenario is similar - civil war or war.
Further I will tell about some specific features on a DB. How to behave if you have seen enough of patriotic films and decided to "die by the graves of grandfathers." So that this does not turn into a "virtual club of thugs" - I will tell some specific trivia with theses.
The main thing is to understand that even if you are Rambo, you will not do anything alone. War is a team sport. Therefore, you need to definitely join one of the parties to the conflict.
.
Once again: you can not fight alone! Someone fed and even supplied Vasya Zaitsev with ammunition, so without tricks, commandos. Agree to volunteer for any of the dirtiest work, but as part of the Armed Forces. Even if they make you a "shrew" - that's good too.
.
Immediately I say, any thoughts, aspirations and hopes that everything will be simple and understandable - drop immediately.
.
- In the troops, no one always understands anything. Most of the officers - samoduri, and the number of moral monsters who are eager to fight, will be off scale. And this is normal (or rather not normal, but the norm). Remember, no matter how clever you are, you put your brains in as deep as possible and do everything exactly as they say. Even if it is some kind of stupid evidence, you DO NOT IMPROVE. All in accordance with the statute and orders. Whoever starts "clever", no matter how logical and reasonable it seems, will always get lost.
.
- Remember, if "yours" are yelling at you, this is not bad. No need to snap. Bad when they shoot at you. And sometimes it happens, as it is rather difficult to figure out where their own and where others are. Fights are maneuverable and positions change constantly. You can confidently lead a few hours of battle, until the headquarters realize, through radio communications, that you shoot at each other. So it happens. And then it is not necessary to make claims to "opponents", they did not like it either.
.
.
- Remember
weapon
always on safety. You take it off only if you start shooting or go to the "head patrol" (but YOU are unlikely to find yourself there, the commanders will not risk it). If near you, on the march, there is a blockhead with the fuse removed - correct it. DON'T PULL HANDS TO WEAPONS. Correct the words, tell him about the fuse. If he refuses, then decide for yourself: you can tell the sergeant or the officer, you can score as you wish. But remember that a lot of guys are packed in 200 because of the idiots handling the weapons. On the other hand, the fighter you substitute in front of the commander may then shoot you. Decide for yourself. Better stay on your own and press it yourself, if the character allows.
.
- Weapon NEVER direct on its. Even in the "joke", even the fuse, even with the store unbuckled. For such a focus, you will be "punished."
.
- On the AC fuse has three positions. Actually, the lock, automatic fire and single. If you are in a panic abruptly remove from the fuse, then surely lower it until it stops and put, thereby, in the mode of a single lamp. This was done so that a soldier who was distraught with horror would not squander the store in a second and be left without cartridges. Remember this.
.
- The fuse on the AK clans enough vile. If you need to remove it quietly, then pull it off and smoothly transfer to the desired fire mode (it is, almost always, a single fire).
.
- Jump on the spot before exiting. Check that nothing clanges and jerks at you. It is better to rewind the arms on the arms with tape or tape beforehand. Chuck in the chamber, and the fuse.
.
- Examine the firing tables on your weapon. The bullet flies NOT DIRECTLY. She has a ballistic trajectory with elevations and depressions.
.
Therefore, competent determination of the distance to the target and knowledge of the table of firing is a good opportunity to hit quickly, which means to reduce the time while shooting at you.
.
- Wind affects the trajectory of the bullet. Learn the effect of the wind on your weapon in advance, and not the campaign and by eye.
- If you had the opportunity to choose a weapon - take the same (same caliber) as most of your comrades. There are not a lot of bullets on you, but they end quickly, especially in the city, so if you can share with you, this is a big plus. If your friend is killed, do not hesitate to replenish your ammunition (after receiving permission from the commander).
- If you go to the "autonomy", then you take on yourself 360 cartridges (these are 12 stores) and as many more, but in packs you just throw them into the backpack. Greatly save on weight.
- Remember that the stores located on the chest and abdomen - this is additional armor.
- Most of the deaths and injuries occur from fragments. An ordinary padded jacket is quite capable of protecting you from small fragments. Hanging over the top and unloading shops - you can consider yourself relatively protected. Do not forget to raise the gate.
- Bulletproof vest is very good. Any. Even the most useful.
- If a bullet hit you in a bronik - this does not mean that he saved you. Since the energy of the bullet, stopped by the element of armor, can inflict terrible injury on you. Ribs almost always breaks. And possible and organ rupture. So if there is no hole in you - this is not a reason to rejoice. It happens that the hole would be "preferable."
- Do not touch the grenade launchers. Shoot them hard. Leave it to more experienced comrades.
- After spending a few days in the fresh air, a smoker can be detected in 70 – 100 meters. Quit smoking.
- If you heard something, stop the group and "give silence". Listen carefully. Even if you slow down the group every five minutes, only rare idiots will swear at you.
- You never stop, continue to stand. You need to kneel or lie down. This is very exhausting, but it is a question of the survival of the whole group. If someone is lazy to sit down - make him.
- There should be no finger on the trigger, even if the weapon is on a safety guard.
- On the marches, put the machine gun on your hands and fold them on your chest with a cross. So it is easier to carry. In this case, the thumb of the right hand is always ready to unlock the fuse, and raise the weapon quickly enough.
- A belt (automatic) is always on the neck. Otherwise, if you are ambushed, there will be a mine explosion and you will fly one way, and your weapon to another, and you will turn from a light 300 into 200.
- At the post do not sleep. If you fall asleep, not only enemies will want to shoot you. In the Second World War for this, as well as for the loss of weapons, officially shot. Now they shoot unofficially.
- You can pee kneeling without turning into a standing growth target.
- To go to the toilet ONLY stock. One shit - the second covers. If no one wants to go with you, bear with it.
- Sneeze into yourself.
- Who runs slowly - quickly dies.
- The effectiveness of grenades is overvalued. There were cases when grenades exploded in a small room, and inside there were only light contusions.
- Cheku teeth to pull out. Only with your fingers.
- If you carry out a sweep (the last hours of your life), then as a joke: go in the room together, first a grenade, then you.
- Standing in front of the door and waiting for your comrades who are going to storm, hold the door so that it was not open. Otherwise, in the corridor you will see either a grenade or a trunk.
- Roll the grenade on the floor. Do not throw.
- We rolled a grenade, an explosion, threw another, but unbroken. Let them crawl again.
- Do not run in front of the trunk of a friend. You block him from shooting.
- Any closed door is UNIQUELY since it can be mined.
- Do not open the boxes, do not turn on the electronics. Do not touch anything. Everything can be mined. It is important. Up to the point that you can not open the refrigerator, even if you really want to eat, and lift the lid of the toilet.
- In the walls there may be breaches hung with rags or carpets. So the enemy can quickly run from the front to the front. Remember this.
The fact that you are in an extreme apartment does not mean that you cannot enter through the wall from the next one.
- On the window you can hang nets from the old Soviet beds. They stop VOGI well.
- You can hear meowing, for example, because of a door of a closet. I'm sorry, but the animal is doomed. Most likely, he was locked there with a grenade. Can not open. This is a very difficult moment, always, in such difficult situations I want to be a man, but ...
- If you need to shoot from the room on the street, then do not crawl to the window sill or stand at the side of the window. Go deep into the room, stand on a stool, closing the wall or the like. And do not turn on the light, you can not, do not highlight yourself (I'm not talking about WU).
- Splinters of brick or concrete, broken by fire, have properties to fly on you. When you hit your eyes ... well, you understand.
- From a grenade launcher to shoot at people is useless. Although now, it seems, they began to make high-explosive fragmentation shells, but, IMHO, this is heresy.
- It's a bad idea to shoot for a long time without changing position.
- Bend down.
- No need to "calculate snipers." Not your job, and you do not have enough knowledge. Fight further, "not paying" attention.
- Be prepared, morally, to "work out" the civilians who lit up you. Including women and children. If the prospect is not happy, then move carefully.
- At AK – 74 (a copy with good accuracy of the battle), you can fasten the sighting of the SOB from the SVD. At distances 500 – 600, the AK – 74 and the SVD are very closely connected with the trajectory, the sight will fit perfectly. You will shoot and carry fire, because of the caliber, much faster than with the SVD. And those who decide to look for a sniper, you will be uninteresting.
- It is NOT IMPORTANT to shoot from a grenade launcher. He has a platoon time. He needs to fly 15 – 25 meters before the grenade is cocked. Accordingly, in the room, it just does not work.
- Modern RGO and RGN grenades explode FIRST from the impact. They have a shock fuse worth it. and the explosion through the gap - it works self-destruct (in case the grenade fell into the loose snow)
- No one, even the sappers, are not engaged in the removal of mines and slaves. They stupidly undermine their TNT saber. Do not be clever and begin to shoot VU.
- Stretching, normal warriors, put secrets so that it would not be removed in a simple way. So "cutting the thread" is a bad idea. Just pass by. This is not your business, for this there are senior comrades. I will not teach you how to do WU and stretching. I think you understand that this is an article right away. Learn the first medical aid.
- When injuries are venous and arterial bleeding. They are "treated" in different ways. But another thing is important. In the heat of battle there is no time. With venous bleeding, a friend will die for several hours, and with an arterial 10-20 seconds, and then loss of consciousness and hypoxia begins. So, in order not to bathe, you quickly apply an arterial guzzle over the wound (now the interns will begin to resent, but this is life, this is not a citizen, you have to break it) and return to battle. Your friend will have half an hour or an hour to figure out himself, or you will do it when you are free.
- Harness is always at hand! Neither in a bag, nor in a backpack - or wound on a butt, or in unloading near at hand.
"Always TWO harnesses with you!" One you can give to the wounded comrade and in a minute get a bullet in the femoral artery.
- There is such a thing as "suppression by fire." Actively watering the enemy, often, you can pin down his actions, even without falling and not causing damage to manpower. Especially help you tracer.
- Remember the tracer, besides the fact that the trunk is very much impacted, they also give out your position. So do not abuse them. And it is difficult to carry out aimed fire.
- Weapons need to be cleaned every day. Especially gentle around the muzzle brake. If there is a groove or fossa, then the accuracy of the battle will fall dramatically.
- The last three patrons in the store, it is better to score tracer. To empty the store did not come as a surprise to you. Moreover, if you leave one cartridge in the barrel, then you will only need to whip up a new store, that is, the recharge rate will increase.
- Watch your feet, do not be lazy to wash them. Nate and you are no longer a warrior. - If you see that you can shoot at someone, this is not a reason to shoot. If you have not noticed, ask the commander whether you can get involved in a fight.
- If you notice someone, but you have not yet seen, do not jump sharply to the side. Peripheral vision will give you away instantly. Gently and smoothly, take your time, sit down and calmly take a stand. It will be much less noticeable.
- Remember, the sending cartridge cartridge must be released abruptly to clang. Otherwise, "zhevyuet."
List of equipment:
FOR WAR! Not for camping! Designation system: items marked with an asterisk are items whose purchase is NOT paramount. I write things for different seasons mixed up (but this does not mean that all this needs to be put into one backpack), it's not necessary to drag everything out of failure, of course. You should have everything in your home. So that you can change equipment yourself for different tasks. Immediately make a reservation, I'm not a fan of "Slides". I prefer a good dense field uniform and on top of the camouflage, so that the "Gorky" in the list will not be.
.
Rags:
1. Bertsy. Conditions for choosing two: to not miss the water, and weight. Choose the easiest.
2. MINIMUM five pairs of socks (including winter ones).
3. Tight pants
4. Thermal underwear
5. Several t-shirts, only cotton
6. Tight field jacket
7. Belt
8. Maskhalat (both summer and winter)
9. Fleece jacket (instead of a sweater, it is lighter, weight is very important)
10. Winter jacket and winter pants
11. Winter boots (I advise "Husky with. 080" - cheap and cheerful)
12. Winter hat (knitted, do not have earflaps to drag, it is heavy)
13. Cap or Panama, for the summer. Better panama from tarpaulin, that would even slightly kept moisture. In the alloy there is such an inexpensive one.
14. Winter scarf
15. "Arafatka"
16. Gloves or mittens for winter
.
Equipment and equipment:
1. Backpack raid on 60 liters
2. Assault Backpack on 25 liters *
3. Five points *
4. Sleeping bag
5. Knee pads
6. Canvas Cloak
7. Folding mat
8. Unloading *
9. Body armor
10. NVG *
11. Active Headphones *
12. Ballistic glasses *
13. Broneshlom, or, in the worst case, a helmet
14. Jar or hydrator
15. Small infantry shovel
16. Landing Rope 50 *
17. Kettle with popkotelnik
18. Gas-burner
19. Carbine
20. Compass
21. Paracord 20 meters
22. Fork spoon
23. Makeup
24. Mirror
25. A set of threads and needles
26. Matches
27. Gun cleaning kit
28. Gun oil
29. Talc
30. Shooting gloves
31. Insulating tape
32. Heat sources
33. Lamp
34. Tactical Weapon Belt *
35. Knife
36. Clock watch
37. Pencil
38. Paper
39. Army radio *
40. Poncho
41. Insect repellent (non-smelly)
42. Binoculars *
43. Range finder *
44. Multitul *
.
In medicine:
Take what you personally need, for your personal sores. Plus: 3 arterial tourniquet, 2 – 3 IPP, a lot of bandages, scissors, suture material, pain medication (tablets, if you have sore teeth, for example), disinfectant. You also need promidol and some HARD antibiotics (but you can hardly buy them at a pharmacy without a prescription).
.
The activated carbon will not be superfluous, but under the loads the stomach, sometimes, begins to deal with this nonsense. I also advise you to collect a set in ampoules of ketanova, dexamethasone and kordiamina. Well, a syringe for them, of course. This is an anti-shock kit. It will not allow your heart to get up due to the fact that the brain collapses your pressure from pain or blood loss (and as a rule they are somewhere near).
http://vk.com/feed?w=wall35038658_3468
- Zinc
http://sakstorp.livejournal.com/67453.html
- Background rebel (specialized literature on the guerrilla war - you can download).
Ps. Regarding how to get to the front, then again:
You can join the people's militia of the DPR and the LPR:
1. At the building of the Lugansk SSU.
2. The Donetsk Regional State Administration and the regional military registration and enlistment office of Donetsk (there was a fight just last night).
3. At the building of the ROVD in Slavyansk.
http://voicesevas.ru/news/yugo-vostok/vnimanie-telefony-dlja-zapisi-v-narodnoe.html
- on the link in the availability of phones to write to the people's militia DNI.
You will be interviewed on the spot and will determine what you are fit for according to your military, technical or hunting skills. As it is not difficult to guess, in modern war not only those who run on Zelenka with Kalash are needed, therefore at certain moments a competent staff officer or a cool armored vehicle driver may be more useful than a few green recruits with freshly issued AK-74.
Regarding how to join the militia, not being on the territory of Ukraine, then for this you obviously have to cross the Russian border with the DPR, which is of course illegal (from the point of view of the fascist junta), but it is quite possible, as evidenced by the practice of passing militias from Ossetia, Kuban or Tatarstan on the territory of the DNI. The authorities of the Russian Federation do not condone this (if there is a lot of evidence when their border guards and FSB officers interfered with volunteers), but sometimes they look at all this movement through their fingers. The same applies to the transportation of firearms with ammunition. People with weapons and equipment are driving through, so with the proper desire, it will work out for you if you decide to beat the fascists with weapons in your hands.