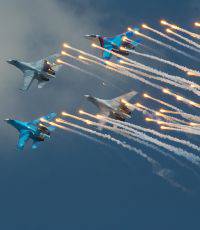 "My name is Sashka," the streamer introduced himself, who conducted a live broadcast near the Donetsk airport. On the screen, something is burning in the distance, shots and noise of flying aircraft are heard. "So, there's nothing to see here, we'll go closer to the battlefield, the driver is afraid, but we'll break through," Sashka decides, and the video disappears. It resumes literally in a few minutes with a scream from the cop: "What are you doing here ?! Let's nestle back, quickly! ". The picture gets better. The airport building is clearly visible, thick black smoke is coming down from somewhere, and shots are heard even more clearly. "Oh, they are beating up with AGS," Sashka quite ascertains and rushes somewhere along with the rest of the journalists.
Only his shorts and broken knees, smeared with brilliant green, are visible. "So, dear viewers, we are working for you," obviously copying someone, says Sashka, trying to withstand the commentary tone, but he immediately stumbles, as the line has lounged next to him. - Pancake!". One can see crouched journalists, a fragment of the fence and a police car with a flashing light that is rapidly moving away somewhere. In some stupid huddled journalists, heard the French and Italian speech. Photographers carefully peer around the corner, trying to zoom in on the building itself.
Shooting is becoming more intense. Explosions. From the airport run two in white T-shirts with the words "Save our Guys". "Oh," laynnyusovtsy "right from there, now we will find out what is there," Sashka hastily comments. "There" is not easy. There are wounded. A helicopter is shot down, but not over Donetsk airport, but somewhere in several kilometers. Again a long line, everyone crouched. It is at the level of instincts. Always squat, not knowing why. "Near the checkpoint, there is probably an ammunition," explains Sashka. The camera snatches the alley with neat rows of trees and grass trimmed. A thin, elderly man with a double-barreled gun in his hands quietly walks along it. On the belt is an old leather cartridge belt. He's shooting purple. He just wants to kill someone from the National Guard. Sits down under a tree and waits patiently. It is evident that he has already made the most important decision in his life, therefore he is calm and focused. "Dedugan with a gun," - commented Sasha. Again intense shooting. Sasha from excitement begins to talk about the dangers of body armor. "Won zhurnalyugi in Bronnikov. If from "Kalash", it will withstand only the fifth level of protection.
But all the bones will break, and there will be a rupture of the internal organs. Unknown what is best. There are sixth-level armored men, but they weigh twenty kilograms, and there is a collar. But breaks all the bones. I'm skinny, so the bullet bleed ... And that's it. " Sasha clearly repeats someone's arguments in the eternal dispute in the war: is it better with a bronnik or without?
Suddenly, the streamer is undermined and scratches forward with all legs. Judging by the legs in the frame, not only he is running. Flops. On the screen there is only grass and cries: "Do not take pictures of people!", "Gd, yes, go away into the bushes, are you tired of living?". "Ours," Sasha explains. - Hey, man, you pull the cap, I'll take it off. In the frame of the militia with a "Kalash" and in a cap. Persons not visible. He sits beside a tree, stretching his leg wearily. A photographer in a helmet and armor case takes the rest of the rebels almost point-blank. He is sent. But softly. Rather, for his own safety. "Our people have taken positions here, now, probably, something will happen," Sashka reports. Everything is simple for him: here is the fight that needs to be shown, here are ours, whose faces should not be removed. And there is no armor. Yes, he is not needed, because right through is much better than if the bones and organs will break.
Bd And tell me, please, who is more honest in this situation? "Journalists" from "Khrobatsky TV", reveling in the scene of pouring Popov with iodine, boldly making their way into the front rows to get a better picture of everything, without missing even the smallest detail, including stains on trousers, or Sasha? He does not know how to report, no one taught him that. But he shows the truth. If there is a shootout, then it is necessary that people see who shoots at whom. His stream makes you wonder. At least me. Well, how, bd, how can you talk about some absolutely meaningless permutations in the Rada, the details of the vote, when the war is here ?!
Here is Sashka without a bronik who boldly crawls to ours, without thinking about the fact that soon the Nazi Guard and other "pravoseki" can be here. Yes, he is a hundred times more professional and honest than those cattle who satisfactorily argue in warmth and safety about the "prospects of the next stage of the ATO." And his stream makes you understand: you can hollow airports, residential areas
aviation
and artillery. You can blow up KamAZ with the wounded and kill the dead. Shoot civilians. Streamer Sashka will show it. If survives. But those who today proudly declare that "the ATO will continue until the last terrorist," think about how much people will have to put? After all, the bill goes to millions. And that old man with a gun who was patiently waiting for his target ... He's not going anywhere. Also a terrorist. And Sashka is also a terrorist, because he shows the truth. Does not know how to do stand-ups, eyeliner and layering. He is more honest and much more courageous than all this removing the seams. It's true.
PS I found a video of the same grandfather with a double barrel