About thirty representatives of the Abkhazian opposition took part in the storming of the presidential palace in the capital of Abkhazia, armed with stones and sticks. One of the leaders of the opposition movement, Vladimir Zantaria, states that people want to restore order in their country and call for closer integration with the Russian Federation. Reports about it
Interfax
.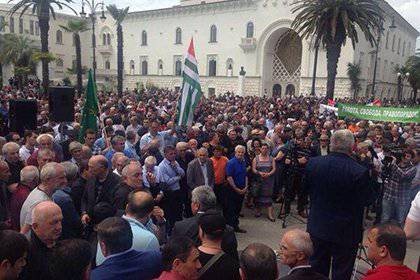 Oppositionists decided to storm after a rally in the city of Sukhum. One of the demands of the rally is the meeting of the President of Abkhazia Alexander Ankvab with the people, whose representatives were supposed to announce their demands to the head of the republic. One of the requirements is the beginning of an effective fight against corruption. But the matter did not come to a meeting in a civilized format.
Armed with stones and sticks, several dozen people separated from the almost 5-thousandth crowd (estimated by the people themselves) and began to attack the building of the presidential administration. The oppositionists are unhappy with the policies of the current authorities, who, according to the protesters, do not independently make efforts to develop the solar republic, but rely solely on donations from the Russian budget. This is reported
"Vedomosti"
. Representatives of the Ahyats movement are in favor of reforms and close integration with Russia. In particular, the movement insists on the creation of a commission to control the spending of funds allocated by Russia.
According to the latest data, several protesters have already penetrated into the administrative building.
The protests of the protesters are taking place against the backdrop of the announced constructive outcomes of the meeting of the Abkhaz leadership with representatives of the Russian delegation, which included the presidential aide Vladislav Surkov. Online
Federation of Russia
the publication is posted, which states that the parties discussed the process of joint lawmaking in the field of security and socio-economic development.