Syrian militants kidnapped 11 representatives of the Organization for the Prohibition of Chemical
weapons
.
RIA News
reports that according to the OPCW itself, its employees collected materials in Syria on the fact of the possible use of this type of weapon in one of the Syrian provinces.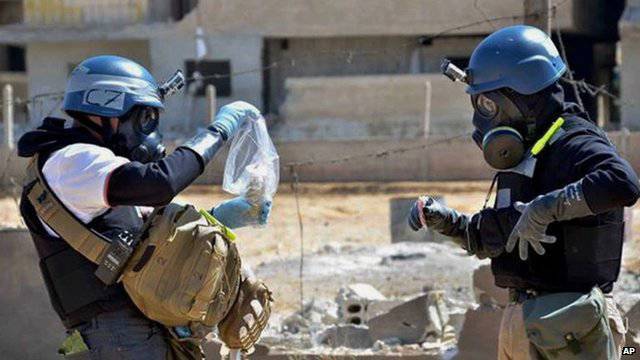 The Syrian Foreign Ministry confirms the abduction of 6 representatives of the mission of the OPCW. Another five of the abducted were local drivers, who provided their services for the "carriage" of mission personnel.
Recall that according to the results of 2013, the Organization for the Prohibition of Chemical Weapons became the winner of the Nobel Peace Prize "for the tremendous efforts to eliminate chemical weapons." Perhaps it was after receiving the "Nobel Prize" that the OPCW began to allow itself to hire a separate driver for practically every mission representative in a foreign country.
The involvement of people who transported functionaries of the OPCW in Syria to the abduction has not yet been confirmed, as there is no information about where the staff of this organization may be now.
On sending the OPCW mission to Syria, the decision was taken personally by the head of the organization, Ahmet Uzyumdzhyu, who expressed the opinion that chlorine-based chemical weapons were used around the town of Kafr-Zeit 11 on April 2014. Representatives of the pro-Western Syrian opposition said that "chlorine" bombs on the city dropped military aircraft of the government air force. The Syrian government called these accusations another provocation, recalling that Bashar Asad continues to pursue chemical disarmament.