After representatives of the Luhansk People's Republic ascertained the fact of establishment of a relatively lull in the LPR, they decided to send the militia to help the DPR. Head of LC Valery Bolotov announced the adoption of such a decision in connection with the tense situation in the Donbas. Reports about it
RIA News
.
Meanwhile, the Ukrainian "authorities" continue the military operation in the south-east. Around noon local time in the skies over Donetsk again appeared combat aircraft of the Air Force of Ukraine. The press service of the leadership of the DPR reports that the Pitmen have warned about a possible air attack and its consequences, and therefore they offered to willing citizens to leave Donetsk for a while. However, according to local residents, there is no big panic in the city, the vast majority of people have decided to stay in their houses and apartments.
The network got the talks of one of the Ukrainian pilots of a combat aircraft, which on the eve attacked Donetsk from the air.
Denis Pushilin, who was elected head of the DPR Supreme Council in Donetsk, said that during the punitive operation carried out by Kiev in the Donbas, about a hundred people died, including civilians before 50.
Pushilin says that it's impossible to pick up the bodies of all those killed yet, since Ukrainian snipers work in Donetsk.
Donetsk Mayor Alexander Lukyanchenko confirms information about numerous victims, speaking no less than about 40 dead.
One more was added to all Donetsk troubles. On the morning of May 27, the arena of the Donbass hockey club caught fire in the city.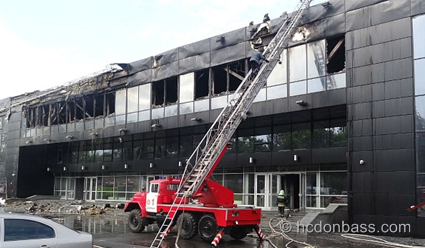 The club's leadership believes that the arson was organized by representatives of the Donetsk People's Republic, which
official site of HC "Donbass"
The president of this club, Boris Kolesnikov, calls the "gang of Somali pirates."
Borys Kolesnikov is another Ukrainian oligarch who is not only the owner of Donbass, but also the second "chocolate" magnate of Ukraine after Poroshenko. Kolesnikov owns ZAO Konti (a group of pastry factories), which has a representative office in Russia (Kursk). According to Forbes, Boris Kolesnikov's fortune is estimated at about 0,8 billion dollars.
Immediately in several coal mines of the Donbass miners announced the start of strikes, which they will continue until Kiev stops the punitive operation in the region.