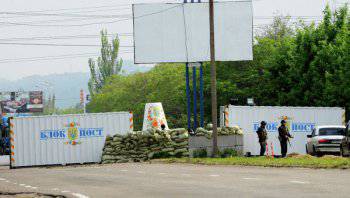 According to RIA
"News"
, 26 May, Ukrainian special forces soldiers attacked the headquarters of supporters of the Donetsk People's Republic in Mariupol.
"There is a sweep operation, the special battalion of the Ministry of Internal Affairs" Azov ", as well as the National Guard under the Dnepr battalion are participating in the special operation. Ours have at least three wounded, "the militia spokesman said, adding that the militia are firing sniper points from 12.
According to eyewitnesses, the shooting began on the streets of Grecheskaya, Georgievskaya, at the intersection of Torgovaya and Lenin streets, and also near the Spartak hotel.
On Tuesday night, a message appeared on Facebook's Oleg Lyashko's page that fighters of the Ukraine battalion created by them and the special Azov battalion of the Interior Ministry killed five and detained three militiamen in the city of Mariupol in the south of Donetsk region.
"In Mariupol, the fighters of the Lyashko" Ukraine "battalion and the special units of the" Azov "Interior Ministry conducted a reconnaissance operation, including five dead, among them one sniper," he said, adding that the security forces managed to destroy "a significant part of the militia's ammunition."
According to Lyashko, there are no casualties on the part of the security forces.
It should be noted that earlier the leader of the "Radical Party of Ukraine", Oleg Lyashko, said that the new Ukrainian government should take radical measures to preserve the integrity of the country. According to him, it is necessary to "mercilessly destroy" the militias operating in the east of the country, declaring a state of emergency in the Donetsk and Lugansk regions.