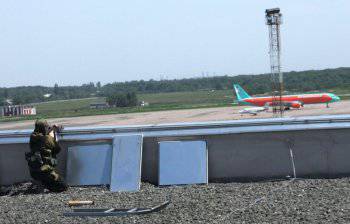 According to the
ITAR-TASS
, with reference to the chairman of the Presidium of the Supreme Council of the DPR, Denis Pushilin, during
fighting in the international airport of Donetsk
the militia shot down two helicopters of the Ukrainian armed forces.
"Earlier, the republic's leadership decided to take control of the airport," he stressed. "This was done after Kiev, with the beginning of the punitive operation in the south-east of Ukraine, began increasingly to use the air harbor to deliver military cargo to the region, as well as manpower for military units and armed formations under its control."
According to RIA "
News
, The Ukrainian military used the Mi-24 and Mi-8 helicopters, which launched several missiles. There are reports of powerful explosions near the airport.
In addition, the news agency "Vesti" notes that Kiev again set up the UN. In the battles for the airport of Donetsk used Mi-24 helicopter with the logo of the organization.
Under international law, only UN peacekeeping forces can use similar equipment.