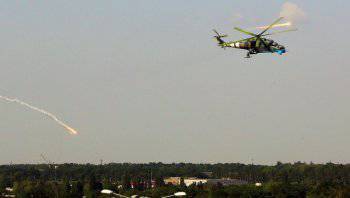 According to RIA
"News"
, the mayor of Donetsk, Alexander Lukianchenko, addressed the townspeople on local television, urging them to show "restraint and organization".
"The situation in the city of Donetsk remains steadily tense. On the territory of Donetsk today there are fighting clashes between the army units of Ukraine and supporters of the Donetsk People's Republic. There are civilian casualties. The Donetsk airport does not work completely, the station works intermittently, "he said. - Refrain from traveling to the airport and railway station area. Keep track of where your children are. Try not to leave the house unnecessarily. "
Representatives of the press service of the Donetsk Regional State Administration reported that as a result of the shooting near the Donetsk railway station, one person was killed and two were injured.
"One man died, two were injured by shrapnel. One of the victims is a child, he was hurt easily, he was bandaged and allowed to go home, "the press service said.
Representatives of the militia headquarters also reported on the battle near the regional military registration and enlistment office, where the militia "garrison" is located.
"The battle takes place at the crossroads of Kiev avenue and Buslaev street. The military registration and enlistment office is located there, "they said.
According to the
"Russian Spring"
, with reference to local residents, in the village of Oktyabrsky, behind the railway station, the military bombed out and set on fire two high-rise residential buildings. In the area the lights go out, there is almost no cellular communication. In all hospitals of the city continue to receive the wounded.
The Chairman of the Supreme Council of the DPR Denis Pushilin appealed to the President of the Russian Federation Vladimir Putin, saying that "Donetsk and its environs can be on the threshold of a humanitarian catastrophe as soon as possible."