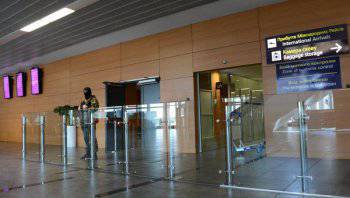 According to RIA
"News"
, "People's governor" of the Donetsk region, Pavel Gubarev, declared "mass casualties among the civilian population" during a clash between the militias and the Ukrainian military near the Donetsk airport.
On Monday night, militia fighters arrived at the airport and demanded that the Ukrainian military leave the internal perimeter. Later, representatives of the Donetsk People's Republic reported that security forces inflicted
aviation
blows at the airport.
"On the Putilov Bridge, the battle of the Pravoseki (" Right Sector ") is fired with mortars all over the massive civilian casualties," Gubarev said on his Facebook page.
As noted by
ITAR-TASS
, correspondent of the St. Petersburg "Fifth Channel" Leonid Muravyev said that during the battle a truck carrying wounded militiamen was shot at. At least 24 people died.
"The truck was fired from a grenade launcher. Killed all who were on board the truck. I counted 24 man. One tried to help, but he died, "- said Muravyov.
This information was confirmed by representatives of the press service of the DPR, noting that the battle in the area of ​​the airport continues.
Denied information about the numerous killed in the undermining of sanitary KAMAZ
Information about the many victims in an inverted car refuted by the chairman of the Voroshilovsky district council Prikhodko, the website reports "
Russian Spring
":