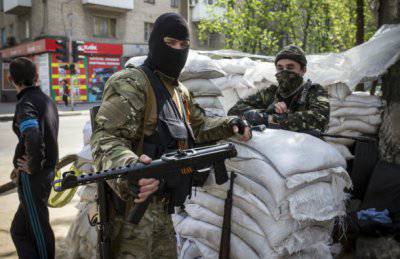 Our troops today at 6.00 in the morning fired a mortar block at the turn to Krasny Liman, and then (from the 120-mm mortar) Karachun. The enemy position of the mortar could not be detected and organized return fire did not lead. The losses of the enemy are unknown, but they are hardly significant - that there, that there they are already well entrenched.
To Donetsk, the 7 turntables (4 Mi-8 and 3 "crocodile" Mi-24) proceeded past us (at a safe distance). From Donetsk (also at a safe height and the farthest route from us), a twin-engine plane flew away.
According to the latest data (half an hour ago), in Donetsk only the "Vostok" battalion + groups of volunteers that have arrived to help him take part in the battle. The militia forces ("Vostok" is subordinated to the Ministry of State Security) are not yet involved in the battle, which indicates not too serious problems with the enemy.
In our direction, the National Guard under forces continue to arrive from Izyum. For today, the arrival of the "new" BTR from the north to the Slavyansk region 14 is noted.
Read the comments to one of the articles of El Murid in his LiveJournal. There is one strategist there who "like two or two" proved that I am an incapable commander — I don't know how to smash and destroy the enemy, maneuver with forces, etc. Please (people registered in LJ read us), give STRATEGY WITH A BIG LETTER ( his nickname is something like a.b.c.d) that I crave to see him as the chief of staff in Slavyansk - so smart and talented! :) And if he manages several hundreds of almost untrained militia to defeat at least a couple of entrenched strongholds of paratroopers or national guardsmen (each half of my entire garrison with armored vehicles) with a decisive attack, I will immediately give him command! Well, at least one! Oh please! Tell him: I just beg to come and teach - how to do it! Master class to hold, so to speak ...