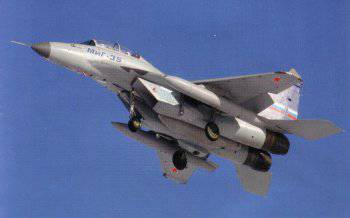 According to the information agency
"Russia's Arms"
, Russian Aircraft Corporation (RSK) MiG took part in the Berlin International Aviation and Space Salon ILA-2014, presenting a model of the latest MiG-35 fighter. According to Vladimir Barkovsky, Deputy General Director of RSK MiG, the corporation's stand was visited by representatives of the Polish Air Force flight crews participating in demonstration flights on ILA-2014 on MiG-29.
"Communication with them turned into a grand presentation of the MiG-35. Polish pilots were surprised and impressed with the combat, tactical and flight characteristics of our new fighter, its ability to operate, - said Barkovsky. "None of the vehicles currently in service with them - not only the MiG-29, but also the American F-16 fighter — do not realize such tactical advantages."
According to him, developed on the basis of the ship's MiG-29K / KUB, the MiG-35 was the only participant in the tender of the MRCA of India, which fulfilled all its conditions.
In particular, tests were carried out that proved that the aircraft could take off and land at a high-altitude airfield. Meanwhile, some of the bidders refused to participate in these tests.
In addition, Indian pilots successfully fired ground and airborne targets using an onboard radar with an active phased antenna array. Among the advantages of the MiG-35 can also be noted the presence of infrastructure for the operation of MiG aircraft in the territory of a number of states.
According to Sergey Korotkov, Director General of RAC "MiG", the corporation expects to sign a contract with the Russian Defense Ministry for the supply of MiG-35С fighters. Currently, the corporation is working to promote the MiG-35 in countries that are already using other versions of MiG fighters.