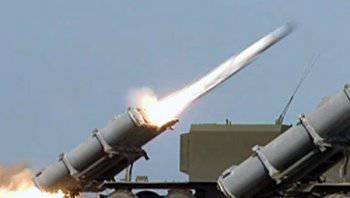 According to RIA
"News"
, The Ministry of Defense of Azerbaijan interested in coastal missile system "Bal-E", send a request to his purchase of the Federal Service for Military-Technical Cooperation (FSMTC).
Azerbaijan's interest in products of the corporation "Tactical Missiles" has confirmed its general director Boris Obnosov. "We offer them almost the entire range of products, including the Bal-E coastal missile system," he told the newspaper
Kommersant
, Noting that "in this system there is a demand in almost all countries with access to the sea." According to the head of the corporation, the presentation was held at the exhibition complex of military equipment and arms KADEX 2014 in Astana.
As noted by
Kommersant
, Director of the Federal Service for Military-Technical Cooperation Alexander Fomin said that "negotiations will begin later", but we already know that the "Azerbaijani colleagues are counting on the acquisition of a division of the complex."
"Bal-E" is an export version of the coastal missile complex "Ball", which was put into service in the 2008 year. Its development was carried out by the specialists of the Moscow OJSC "Machine Building Design Bureau". It includes self-propelled command centers of communication and control, self-propelled launchers of anti-ship missiles Kh-35E, as well as transport and handling machines. The main purpose of the complex - the protection of territorial waters, the protection of military bases, marine communications and infrastructure on the coast. The total ammunition of the complex is 64 missiles, and the range of destruction reaches 120 kilometers.
As the newspaper notes, Azerbaijan has long been interested in missile systems, which are able to cover the coastal areas of the Caspian Sea.