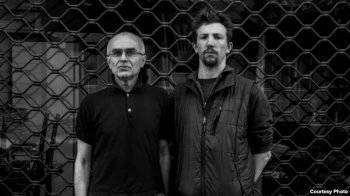 According to the
INTERFAX.RU
, First Deputy Prime Minister of Ukraine, Vitaly Yarema, said that Russian human rights activist Andrei Mironov and Italian journalist Andrea Rokkelli died during a mortar attack under Slavyansk conducted by fighters of "illegal armed groups".
"In the period from 16.00 to 20.00 24 in May in the village near Slavyansk a Italian citizen ... received fragmental wounds to the head and body during a mortar attack from the terrorists, resulting in death. His translator, a citizen of the Russian Federation Mironov, also died, "said Yarema on Sunday evening, adding that the dead did not agree with the Ukrainian side on their stay in the area of ​​the" anti-terrorist operation ".
Earlier, the head of the main department of the Ukrainian Prosecutor General's Office Mykola Goshovsky said that the journalist and translator had died during an exchange of fire between militia members and security officials.
At the same time, he noted that "it was not an operation, it was a response to the actions of the terrorists, as a result of which the Italian journalist and his translator died". "They were in the territory controlled by our data, the separatists," Goshovsky added.
Italian photographer Andrea Röckelli and translator Andrei Mironov died under Slavonic during a mortar attack. In addition, representatives of the French Embassy reported that a French journalist had suffered under Slavyansk. Rome asked the Ukrainian authorities to conduct a thorough investigation of the incident.