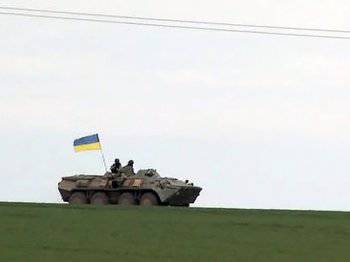 According to the information agency
"Vesti"
, on Sunday, the Ukrainian National Guard broke through the defense of the militia in the area of ​​Novoaydar. Towards Lugansk, a column of military equipment, consisting of 42 armored personnel carriers, as well as several Grad systems, has been pushed. It is worth noting that earlier the Kiev authorities said that they would suspend a special operation in the east of the country on the day of the presidential election.
As noted by RIA
"News"
, on Sunday, Prime Minister of the Lugansk People's Republic Vasily Nikitin told reporters that the Kiev-controlled security forces opened fire on civilians.
"A car was shot in Novoaydar. Two people died. Yesterday at a post shot the girl who moved by the car was shot, - Nikitin declared. - Maybe this is one team, maybe not. Now we find out. "
As the
INTERFAX.RU
, Deputy Minister of Internal Affairs of Ukraine, Sergey Yarovoy, said that "a group of armed separatists" seized ballots in Novoaydar, trying to escape. As a result of the shooting, one person died, another was injured.
"Units belonging to the anti-terrorism center found this group. There was an exchange of fire, terrorists were detained, and investigative actions are being carried out with them. Two vehicles were found on the site, on which they moved and bulletins, "the deputy minister said.
In addition, representatives of the self-defense headquarters of the Lugansk People's Republic reported a clash with the National Guard in the area of ​​the village of Spivakovka. "In the village of Spivakovka, the battle is on for the second hour. There are gunshots and explosions. About 20 went through the neighboring village of Shulginka
tanks
", - said the representative of the headquarters.