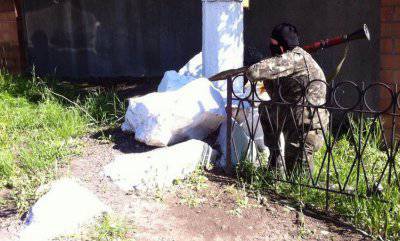 Summary for 25 May 2014
Today all day is a lull. Is that between the BZS and turn on the Red Lyman national guardsmen between themselves minutes 40 fought. They occupied roadblocks, replacing those who came before them. Well, they began to "sweep the terrain" without knowing exactly where the neighbors were. Neighbors responded. And "gone-gone." It is unlikely that anyone was killed, but a lot of ammunition was spent.
They were prepared to attack. One more battery (either 11 in succession, or 12 in second) was dragged to Karachun. Total they have in abundance. Here are just a readiness to go on the attack is not really observed ...
After all, it will be necessary to approach the actual fire, and in the cramped streets no howitzer will help, and the tank is not strong ... In general, the infantry is their main problem. Is that drunk in battle chase-drink Ukrskie soldiers godlessly ...
For the torture of Russian boys and old men, they will answer.
They constantly grab someone. From our region, they are taken to Raisin, where they are tortured quite harshly. In addition to torture, prisoners and detainees are kept in a water pit, they are fed with porridge with sand ... Stupid, dull-witted people ... They probably didn't understand who they were confronted with ... After all, if (or rather, when) we start to win and they (hoping on the "Crimean version") with a dog's devotion they will start to look into our eyes with the dumb question "will they leave us in the service? We are ours, Slavs! ", The answer will be terribly unexpected for them ... Nooo! No Crimean options!
The gathering of my old friends-veterans of the Chechen war gathered in the militia will really fight not only at the front. In the rear, too, we will take all the filth to the nail and the supplements in Izium and Kharkov, if they do not have time to escape, they will remember the porridge with sand and the zindan with water, where they are now throwing Russian boys and old men.
Supplement 2: 43 (MSK). About the situation when the forces are too unequal and whether there are thoughts to surrender.
Do not wait! "God is not in power, but in truth!"
I received a very serious blessing three days ago (apparently from an Orthodox elder, "RV"). Since then, even the nastiest
news
can't spoil my mood. In addition, we are ready for battle. But they are not, despite all their guns and
Tanks
.