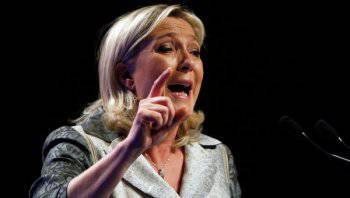 According to RIA
"News"
, the chairman of the leading position in the elections to the European Parliament of the far-right "National Front" Marine Le Pen said that the French are abandoning the EU in its current form, and called for the start of building a new Europe based on sovereign nations.
According to preliminary information from the CSA Research Institute, in the European elections in France 25% received the "National Front", 20.6% - the opposition center-right party "Union for a Popular Movement", 14.1% - the ruling Socialist Party, 9.8% - the centrist union UDI-Modem , 9% - "Green" and 6.4% - "Left Front".
"Voting results show a massive rejection of the EU. Europe cannot continue to be built without people and even against people. The European Union must return what was stolen from us — return sovereignty to people. We need to build another Europe, a Europe of free and sovereign states, Europe of free cooperation, "Le Pen said at a press conference, noting that France was and remains" the political heart of Europe. "
According to her, what is currently happening in France will soon begin in other European countries.