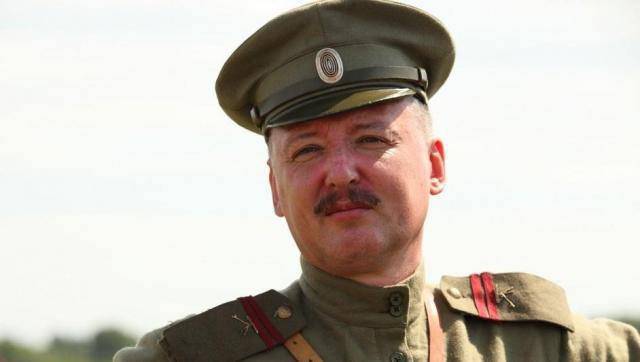 Igor Strelkov (Girkin). It seems to me that his pseudonym is his real name. Russian man holds the country's defense (Novorossiya) in 20 000 000 man in front of a whole army. Of course, he is not alone. But an army without a commander is not an army. There is a commander - the army is or will be. No commander - any army will disintegrate in a matter of hours.
The gunners are fighting against the country of Ukraine, where neo-Nazi putschists have seized power. One against the whole country. In Kiev, the orders are given by the junta and in part (to our happiness, very reluctantly) are carried out by their Armed Forces of the country. Yes, the Armed Forces of Ukraine do not want to fight. Yes, they do not understand what and against whom. But behind are the punishers from the Right Sector / National Guard. They are afraid to fight Strelkov, they are used to killing civilians (they're taking Bandera's grandchildren), but they are always ready to fire their troops in the back. But still it is the army. And this is some kind of state that exists at least by inertia. And the inertia of institutions is a serious thing - all countries of the former USSR still burn through the Soviet institutional legacy. In the case of Ukraine burn in the most direct sense.
But shooters. On whose behalf and in the name of what is he fighting? He holds the defense of Slavyansk and the entire DPR for so long. What does he rely on? Who gives him orders? Who is behind him?
The most striking: no one. No one is worth it. Nobody gives orders. There is not anyone. The shooters act not by order or by inertia. His superiors are of a different kind. He thinks himself mobilized by the authority in whose existence today almost no one believes. Strelkov was called to serve the Russian World, the Russian People, the Russian civilization. In Kiev, the power was seized by hard Russophobic forces. And everyone froze, fell silent, fled. The fatted heels of Yanukovich sparkled. Shaking his belly, he began to hide Pshonka. The searchlight in Lavrov's glasses blinked in confusion. Akhmetov began a series of talks on the redistribution of shares with Kolomoisky. Spat sunflower seeds evromaydannaya gopot. And here came Igor Shooters. Calm, nonchalant, somewhat out of this world. From another time, from another
stories
from another society. As two drops of water similar to the pre-Bolshevik lieutenant of the tsarist army. And in such a lieutenant, as it turned out later, he was periodically reincarnated in voluntary reconstructions. Finally, reincarnated completely. And he took the Crimea. Already then technologists appeared, shot on distributed Crimean tablets in vests against the background of "polite people" and the elegant prosecutor Poklonskaya. But he began to Strelkov and Strelkov finished.
When Putin said that there were no Russian troops in Crimea, he did not deviate from the truth. Strelkov is not Russian troops. This is the shadow of the Russian past, this is the ghost of the Russian future. This is what is not in our present. Arrows took from the encyclopedia of love for the Fatherland 1910 of the year. He descended from the poster of the First World War and immediately entered the battle.
Crimea taken. He calmly reported to nowhere (conditionally, to the Kremlin). Nominated in Novorossia. Nobody reads his telegrams. They hang in the air until the Russian people stumble upon them in search of breath, whose vital centers are tightened by the stranglehold of the Russophobic political elite, the sixth column, which seized power in 90 and does not want to give it up. One of these simple Russian people, Colonel Putin, also stumbled upon a report from Strelkov from another space and another time. And also breathed. But strangely, this Russian man of proletarian origin, just as confused and indistinct as all our people today, only vaguely recalling who he is, who he was and what he was destined to become, turned out to be incumbent. Putin read a telegram written from nowhere and to anyone. Just demand, Russian demand. And read. This is called "Crimea is ours!" The message sent to nowhere accidentally reached the addressee.
The sixth column is terrified; no one understands how this could have happened. But this is a fact. Putin read the telegram. And its content reminded him of something. Who is Strelkov, Putin asked, but then he forgot what he was asking about, without waiting for an answer.
Igor Strelkov, meanwhile, as promised by who knows, that is, the Russian World, passed on. Turning his face to the North, he reasoned like this: you will go to the left, you will burn alive. Go to the right, come back home. And Strelkov went straight to the North. Having thrust a finger into the map, he got to the city of Slavyansk. What a good name, he thought. How close it is to my voluntary heart. This is the Slavs and glory. This is my city. And went.
In Slavyansk there was a woman mayor and many beautiful Russian people. The woman mayor soon disappeared somewhere, but the people remained. The shooters called the moody men and asked where they lay
weapon
. Searching, they found something. So began the construction of the Donetsk People's Republic.
At first nobody believed Strelkov. Especially Kiev. Putin will not bring in troops, Washington and Brussels are straining his arms and legs, the sixth column will confuse his head, and the morons, PR people and traitors will be completely confused, among whom he feels familiar and comfortable. Therefore, we will let Slavyansk under the knife, and at the same time demonstrate the power of our Bandera bart, decided in Kiev, and they were supported in this by rubbing their hands, the recently strangled Boris Berezovsky reincarnated into Igor Kolomoisky. Kolomoisky judged as follows: I will call my people in Russia, they will quickly merge the South-East. Called, heard their. Began to merge. Slavyansk was under attack. Shells whistled, helicopters circled, flaming houses. Everyone counted everything. They did not take into account one thing: Igor Strelkov does not belong to this reality, Washington and Brussels, Kolomoisky and Fridman, Poroshenok and Akhmetov, Timoshenok and Surkov, Maydanov and the Human Rights Representatives under the President. He is from another world, from the Russian World, where all this rot simply does not exist. In his transparent patriotic volunteer consciousness, there is a different geometry. He took the Crimea? I took it. He went to Slavyansk? Gone. Did he come to him? Came Has he gathered men? Collected. Armed? Armed And now got up and stand. He receives orders from all sides like volleys - and volleys like orders. Shooters went out! And he stands. Telegrams are sent to him: come on, back! Back down! Order! Crimea took, and that's enough. And he stands, he does not hear. Front fire brutal Ukrainian army. How so? What's happening? Putin does not introduce troops, and we are not only the South-East, we cannot take some insignificant Slavyansk. And because of what? Unclear. Why are gunners still holding on? Why are our losses so great?
Why every day we do not count the number of armored personnel carriers, the guns, the gang of thugs, notably scribbled with swastikas, and the losses are already calculated in the hundreds. What's happening? Kolomoisky not get through? Is there a time failure in Washington? In Brussels, is the leadership stuck in a gay club and late for work? When will withdraw Strelkova? When will they kill him? When he disappears, eventually, returning to his place on the yellow pre-revolutionary poster ...
The shooters, as if nothing had happened, were standing where they were. Leisurely calling for men to stand in line. Grudgingly creates a women's battalion while men think. But worth it. Came to Slavyansk and does not leave. One against the army. One against the state. One against traitors in Moscow. One against the Kremlin. Generally one. He and his war. Like D'Anunzio in Fiume, he came and never leaves.
You have noticed that Strelkov's appeals are completely hysterical. He seems to be sleeping. Tantrum level is zero. Sometimes he states things that formally play against him. But he is not a technologist or a politician. He is the ghost of true Russia, a double who came from a real Russian present to our unreal non-Russian "present".
Igor Strelkov in Slavyansk keeps his defense as usual. Your Excellency! Defending Novorossia! Yes sir! There is not a step back! Who is he talking to? To whom does he give honor? We do not see, do not understand, do not even guess. He lives in his shooting world, which is Russia. And what kind of world do we live in? Or do we just dream about all this?
May be so. But the dreams that I will watch are dreams about Igor Ivanovich Strelkov. They are dearer to me than any reality. Because he is the reality, and his DNI is true, and his friend - the people's governor Pavel Gubarev - is true. And his New Russia - come true. And his Russia is a reality, and this is my Russia, rifle Russia, the only and deadly Russia. And her name is Slavyansk.