"I am glad that among Ukrainian politicians there were sober-minded people who were able to assess the situation, to understand that it is pointless to accuse journalists who are doing their duty of terrorism." (R. Kadyrov).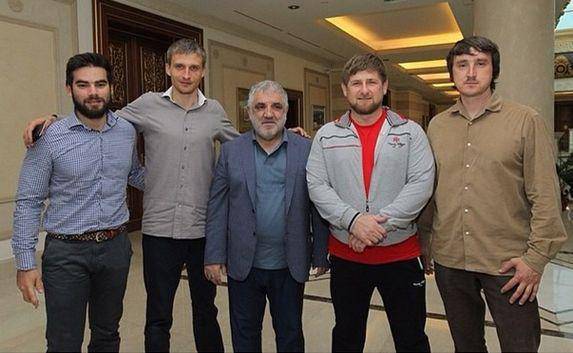 To say that I was surprised at such a turnaround is to say nothing. Lavrov there, Lukin, anyone - it would be logical. And then Kadyrov. But - the result is important. And how Ramzan Akhmatovich forced Ukrainian politicians to "soberly think" are aspects. And minor. Because a good half of the population of Russia can realistically imagine these methods.
I turned to the Ukrainian forums, asked how this case looked. It is clear that it was not necessary to wait for a special objectivity, but something burdened by intelligence and the absence of unmotivated aggression was found.
kritik2132 - 25.05.2014, 08: 24
Well, so they lied, they lied about the terrorists — and now they finally let go. thereby acknowledging that there was no terrorism by journalists. And the Russians are great, they pulled out their own. Russia does not abandon its.

People's Lord Donbass - 25.05.2014, 08: 26
just let go of that shit

kritik2132 - 25.05.2014, 08: 29
where did you see the "terrorists" just let go? This is just a new word in jurisprudence! Once released, it means that they are not at all terrorists.

Shmat Lyudmila - 25.05.2014, 08: 37
They were just politely asked to let go.

Dnipro Petrovsky - 25.05.2014, 08: 38
It's hard to refuse when polite people come to you from Chechnya

Petro1313 - 25.05.2014, 08: 43
We know these polite with a soldering iron and iron


Yes, even with an RPG or flamethrower! If only there was a sense. Yes, the Chechens' reputation is the same, I agree, but what does this mean? In the SBU, all teddy bears are sitting, or what?
PUGALO CHPOKNULO - 25.05.2014, 06: 18
Dick Chechens will redeem for grandmother, here everything is done classically. They take a hostage from the family of a high-ranking person from the Security Service of Ukraine, send a video with a knife at the throat. Give the term for the fulfillment of conditions. That's all.

Ellochka-cannibal - 25.05.2014, 06: 19
So it was.
Highly svidomye appreciate their SBU. It is immediately obvious that the SBU is not a cake in comparison with the armed Kadyrov thugs with knives. Well, what pop is the parish.
Square Dill - 25.05.2014, 06: 49
What the fennel, was done by your under-state before Ramzanka))))))

Last Name First Name - 25.05.2014, 06: 51
Oh, before paying tribute to Kadyrke is still far away.)))

Square Dill - 25.05.2014, 06: 52
Yes, Kuev paid clearly today))))error rus74 - 25.05.2014, 06: 46
UkrSBU's full observatory ... however, not the first for a fool's jester ... besides, the plane had to be quietly let out of Kiev ... and as I understood with Ramzan on board ... ps Ramzan muzhig ... worked the question

Last Name First Name - 25.05.2014, 06: 44
Confused, well, at least do not disgrace that you serve the Chechens. They killed Russian soldiers.

And here I am - 25.05.2014, 06: 45
If you want to defeat the enemy - make him your friend.

Last Name First Name - 25.05.2014, 06: 47
Is he a friend to you? Or does he use you?

Square Dill - 25.05.2014, 06: 47
So dill killed, and their

Last Name First Name - 25.05.2014, 06: 48
Umarov, Zakayev, Dudayev, Basayev, Raduyev - Ukrainians?

And here I am - 25.05.2014, 06: 50
Do you still remember who Yarosh asked for help at the beginning of April ... He grumbled Czechs on his head

If you spit on the notebook trolls - respect. They are afraid, but respected. Apparently, this calculation was. Well, the "specialization".
Alexey 11 minutes ago
"When we were put in the car, where we heard the Chechen speech, I immediately felt better. I understood who intervened "(M. Saychenko) - what good changes did come. In 94-95, on the contrary, it would be bad.
Times change. And people, by the way, too. The image of Kadyrov as a person who is able to resolve political issues peacefully is a novelty. To be honest, I do not think that negotiations with Ukrainian politicians were conducted over a cup of tea. It really is better in the old fashioned way. But with goats - in the goat. So once again, the result is important.
On the Internet, they say so much for Kadyrov that it's simply unrealistic to quote everything. If in general - the image is still the same. "Putin's Wolf" is the most civil that I dug. Why the wolf, I personally did not understand. Apparently, the one who launched such a turnover absolutely does not know such a breed of dogs as the Caucasian Shepherd. This is worse than a wolf in terms of power, in terms of concepts. A Caucasian does what he considers necessary within his territory. Without loud special effects. But effective and efficient.
I am glad that our guys managed to free. I welcome the actions of Ramzan Akhmatovich, no matter what considerations he may take or how his representatives act. In the end, this is not our problem.