The data on those killed in the battles in the south-east of Ukraine are contradictory: some consider those killed as dozens, others as hundreds, and independent sources report thousands of people killed. "Reedus" tried to reduce statistics.
There is a civil war in Ukraine, if you call a spade a spade. People are dying on both sides, but information about the dead comes contradictory. The southeast claims nearly a thousand dead from the Kiev side.
Official Ukrainian agencies cite Russian bloggers and write about "hundreds of dead" rebels.
On Ukrainian forums they say that supposedly in Kharkov
aviation
the plant is brought on planes, helicopters and trucks of wounded and killed supporters of the new government. However, Reedus checked this information, it is not confirmed. We have, however, more than once noted the monstrous flows of misinformation in the reports
News
from Ukraine...
Kiev keeps score of its dead fighters for dozens. In total, according to the head of the Security Service of Ukraine, Valentina Nalyvaichenko, 24 people were killed during a special operation in the southeast.
"The losses of the National Guard and other militarized formations only killed a long time ago exceed a thousand people," said analyst journalist Alexander Rogers.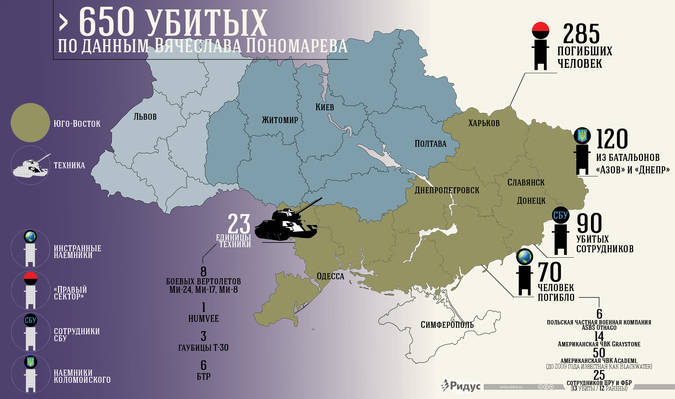 Only People's Mayor of Slavyansk Vyacheslav Ponomarev called the specifics so far: 650 people only from 2 to 12 in May from the Kiev side (of which 285 Right Sector activists, mostly included in the National Guard, 120 local mercenaries, 90 SSU employees, 70 foreign mercenaries) and 8 people from the Southeast.
"Who in this situation to believe? We must believe ours from the South-East: they, unlike Kiev, have nothing to hide. As for losses, the bill has long been going on thousands of people. Only on the part of the resistance, there are already more than a thousand dead and missing (every day people disappear in Donetsk, and in the Lugansk people's republics, and in Zaporizhia, and in Odessa - Kolomoisky's "daily terror" in action). And the radicals killed even more. We will never know the exact number of victims of this war, and a more or less common figure will be announced only in three to five years, "political analyst Alexander Kazakov told Reedus.