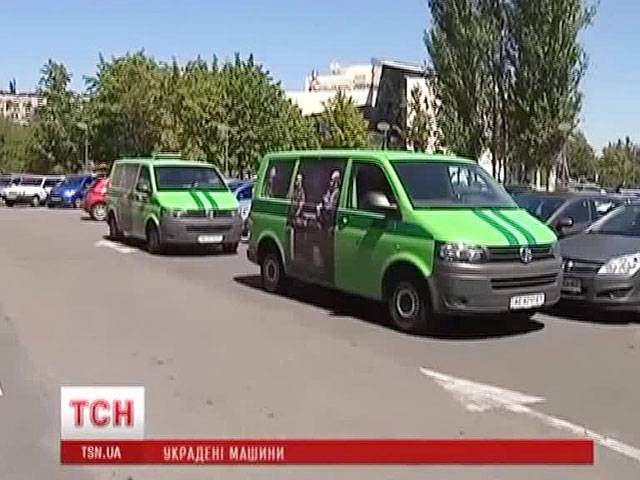 In the south-eastern regions hijacked cars collector. The Ukrainian press blames the militia for this, however, there was evidence from eyewitnesses who claimed that the cars were not lost - they regularly appear in the Donetsk region.
Ukrainian media claim: "The gunmen operating in the Donetsk and Lugansk regions hijacked the entire fleet of collector's PrivatBank vehicles. They say in the financial institution that no company's collector's car works. For two weeks, the terrorists stole 15 armored vehicles, they disappeared from parking lots or were hijacked during attacks on collector groups.The bank does not exclude that their cars can be used by terrorists to attack Ukrainian military, civilians from Donetsk and Lugansk regions, for provocations and destabilization of the situation in the region. "
Messages about the theft of collector cars regularly appear in Ukrainian newspapers and television issues
News
. The text is about the same, and it does not give any details about where and under what circumstances, and most importantly, when the cars were definitely gone. There are no indications that the bank's management has filed a corresponding statement with the police. But published license plates of cars. But why only seven out of fifteen?
But on the other hand, it is obvious why viewers and readers are now informed about the cunning of the Southeast fighters right now. Fifty Ukrainian soldiers were shot on the eve of the village of Blagodatnoe, Donetsk region: 16 people were killed, more than 30 was injured. According to local residents, they paid for refusing to shoot at peaceful people. Eyewitnesses reported that the punishers drove up to the Ukrainian roadblock of a motorcade of two SUVs and three minibuses, where they could see the PrivatBank logo of oligarch Igor Kolomoisky.
And 11 of May in the city of Krasnoarmeysk, Donetsk region, on the vehicles of the same PrivatBank, fighters of the Dnipro battalion, created by Kolomoisky punitive detachment, arrive at the city police station, where voters were voting on the day of the referendum. Armed people opened fire, wounded two citizens - one fatally. Some numbers of cars get in a telecamera lens. A minibus Ford Transporter with state number AN0386 B was allegedly hijacked by the army of the Southeast. Another one - AN8221 HI. It turns out that in order to attack civilians and provocations, the Kolomoisky Bank's car is indeed used, and the TV channel's host was, in part, right. Just who and for what purpose? Now this is not at all difficult to guess.