As reported on the site
Rosteh
, Rosoboronexport announced the beginning of the supply of Mi-28HE helicopters to foreign partners. This became known during the HeliRussia-2014 exhibition, where the Russian state special exporter presented combat helicopters: Mi-171Sh, Mi-35М, Mi-28HE, Ka-52, as well as a radar patrol vehicle Ka-31.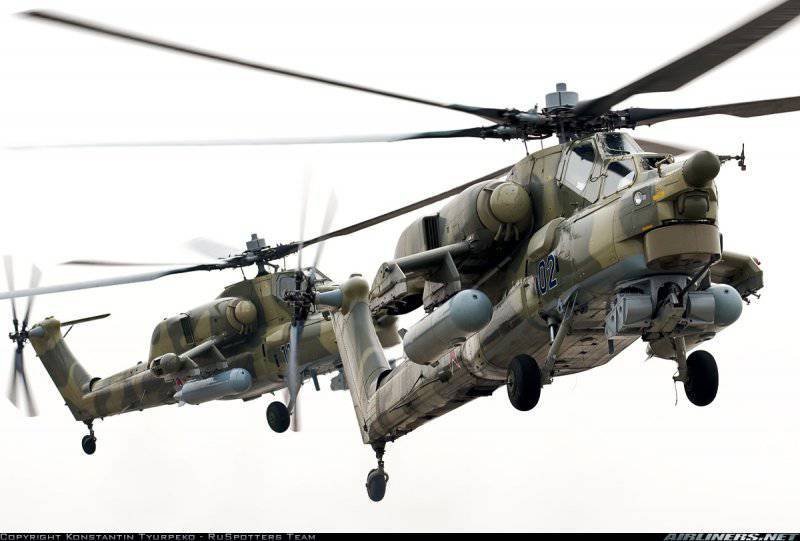 The announcement of the beginning of deliveries of a new combat helicopter with a complex of onboard radio-electronic equipment has become a feature of the event. The experts also noted that good training prospects for foreigners are another combat training helicopter, created on the basis of the Mi-28НЭ, having dual control and successfully solving a complex of combat missions.
According to Vladislav Kuzmichev, who represents the Rosoboronexport delegation at the exhibition, today most of the countries have their own helicopter fleet. Meanwhile, only a few states are capable of developing and producing helicopters that meet modern requirements. Russia among them occupies one of the leading places.
Moreover, the increase in deliveries is happening, both due to the deepening of work with regular partners, and through the acquisition of new customers. Among the promising markets, Kuzmichev named the states of Southeast Asia and the Middle East.
For many years, Russia has been one of the main suppliers of helicopter technology to the world market. Last year alone, Rosoboroexport exported more than 140 Mi-17 and Mi-35-type combat vehicles to foreign partners, which is 50 percent more than it was in 2012 year. In the current year it is planned to maintain the achieved supply volumes.
During the exhibition HeliRussia-2014, representatives of Rosoboronexport also held several meetings with their traditional and prospective foreign partners.
It is worth noting that the VII International Exhibition of the helicopter industry has become one of the largest in the world, where Russia showed the participants and guests of the cabin the increased capabilities of the national defense-industrial complex in the development and production of helicopters.