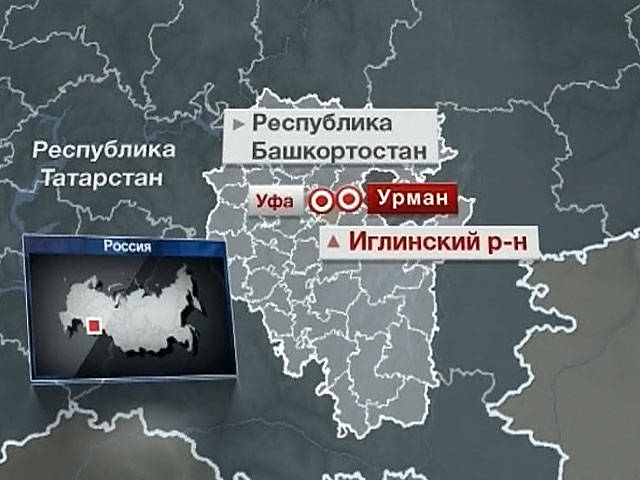 The movement of trains on one of the sections of the Kuibyshev railway was blocked due to explosions of ammunition in a burning warehouse in the Bashkir village of Urman. The 99 artillery arsenal is located just 5 kilometers from the railroad tracks. From 5 to 7, thousands of people will be evacuated from the area adjacent to the warehouses.
In the village of Urman live over 3,5 thousands of people. According to the head of the press service of the Privolzhsky regional center of the Ministry of Emergency Situations Oleg Zugeyev, now on 25 buses more than 1 thousands of people have already been evacuated from XNUMX buses. Adjacent to the military part of the territory cordoned off by the police, also restricted entry to the territory of the village Urman.
The cannonade from ammunition ruptures is heard several tens of kilometers from the ammunition depot, thick black smoke from the fire is visible at a distance of 40 kilometers from the place of ignition. Old artillery and
tank
shells that are not capable of exploding over long distances during an explosion. However, the danger of fire is that numerous communications, including gas and oil pipelines, take place near the scene of the incident.
On 13 hours, two commuter trains were delayed on the railway station Takhtilanovo-Urman and Urman-Utilan. 90 commuter passengers evacuated. From the station Urman also evacuated station workers and passengers who were there.
The head of the press service and information department of the Defense Ministry, Colonel Igor Konashenkov, clarified that the fire occurred in the technical area of ​​the 99 arsenal of artillery ammunition, located 100 kilometers northeast of Ufa. The fire caused the detonation of shells at the loading site. Currently, measures are being taken to localize the fire and extinguish it. 44 EMERCOM employee and 14 units of fire equipment are involved in the fire fighting. But the fire equipment cannot yet come close to the warehouses because of the cannonade.
Causes of fire is not yet known. According to some information, according to one of the versions, the fire to the territory of the warehouse spread from the forest. According to another version - spontaneous combustion occurred in the warehouse, and a forest fire was the result of an explosion at the arsenal.
In connection with a fire, an inspection of the implementation of legislation on fire and explosive safety is carried out. A group of prosecutors headed by the military prosecutor of the Central Military District, Major General of Justice Yevgeny Ivanov, left for the scene of the incident, ITAR-TASS reported.