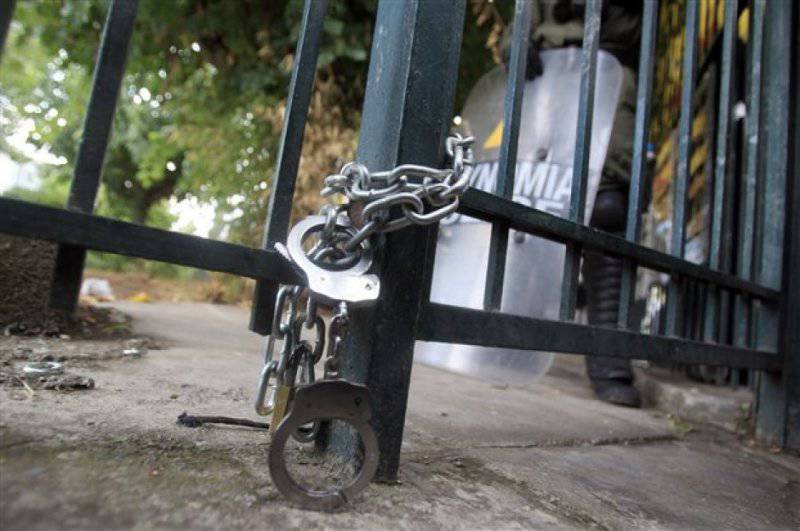 The famous journalist Aglaia Toporova wrote in her material on the peculiarities of journalism ethics and solidarity in Ukraine. In particular, she writes about how the Ukrainian media sphere responded to the detention of Russian journalists LifeNews.
Actually, I was planning to write about something else entirely, I thought I would tell the readers where the titushki, Colorado, Julia, gunpowder, and Yanukovosch came from the usurpator got accustomed to and why. It seemed to me important to clarify what is really "aziriya", "zviryachche beat", "journalism" and "honest journalists", "revolution" and "peacefully rebel." Who are the "downbasstsy" and "maydauny." A few days ago, I was sure that an attempt to make sense of what happened in recent months in Ukraine, at least at the level of words and expressions, is necessary in order to live further - both Ukraine and Russia. Maybe remember some funny or characteristic
stories
It may be possible to think that you can come up with an incredible amount of evil words, and the feelings and desires of all parties to all conflicts are the same: peace, prosperity and good relations with neighbors.
But, alas, today's Ukrainian reality is ten steps ahead of any social thought. And what seemed to me interesting and important a few days ago - the creation of labels, nicknames, stereotyping and other attributes of the hate language - somehow faded before a simple and clear fact: LifeNews journalists were arrested by the Security Service of Ukraine and accused of complicity to "terrorists". Allegedly, they coordinated the firing attacks of the militias in the Donetsk region, and carried in the trunk of the car MANPADS. In general, journalists were arrested, and no one knows what awaits them now.
It's not even the case that usually terrorists and other rebels usually take prisoners of journalists: ransom, hostages, this and that, and undesirable foreigners — including representatives of the media — are simply expelled from the state, but how they responded to the arrest. Saychenko and Sidyaykina their Ukrainian colleagues. And the situation here turned out to be really paradoxical.
The fact is that in Ukraine there are a huge number of structures - governmental, non-governmental, international - in every way and in any cases that protect freedom of the press, the rights of journalists, etc. The deputy secretary of the Security and Defense Council of Ukraine, Victoria Syumar, who has accused lifeNews journalists of monstrous crimes, has for a long time headed the human rights organization "The Institute of Mass Information", designed to protect Ukrainian journalists from censorship and persecution of any kind. But, apparently, only Ukrainian.
In the Criminal Code of Ukraine there is a special article 171, it is called "obstructing the activities of a journalist" and promises the criminal up to two years in prison. Vadim Titushko, an athlete who gave the name to the whole direction of Ukrainian propaganda, was tried for this article and received a suspended sentence.
And all this happens despite the fact that almost any politicized gopnik has a journalistic identity to an unknown regional newspaper and website in Ukraine, or, more correctly, a public activist. True, only on the one hand - the side of the now pro-government "honest journalism." And when the owner of such documents gets into the police, the prosecutor's office or just being attacked by someone unknown, dozens of human rights organizations write appeals to all possible instances up to the European Court of Human Rights. And about Reporters Without Borders and other world human rights organizations there is nothing even to say.
And then some kind of fantasy: LifeNews journalists (you can relate to this TV channel as you please, but this does not change the essence) did their job as best they could and how they thought it was necessary, but not a single official journalistic or human rights organization of Ukraine said a word in protection of Marat Saychenko and Oleg Sidyakin. No, Ukrainian journalists were not at all obliged to declare the innocence of LifeNews journalists, but they should have taken their case under control.
Unfortunately, lately, for every "but it is also not possible" Ukrainian journalists and public figures have the answer: "yes, why? can". And now an article appears on Telekritika's main media website of Ukraine, explaining in detail and colorfully that Russian journalists are soldiers of the information war and do not approve of the antiterrorist operation in the South-East of Ukraine, and therefore it is possible and even necessary to deal with them. Well, whoever does not approve of the Ukrainian authorities, is a terrorist, "who does not jump - that is Moskal".
Ukrainian journalists declared their Russian colleagues not only informational, but also openly police war.
Save Our Guys!