The so-called Prime Minister of Ukraine Arseniy Yatsenyuk said that the Ukrainian government is going to allocate about 100 million hryvnia (about 300 million rubles - note "IN") to finance the purchase of BTR-3Е for the needs of the National Guard and Armed Forces of Ukraine. The agency reports
UNIAN
.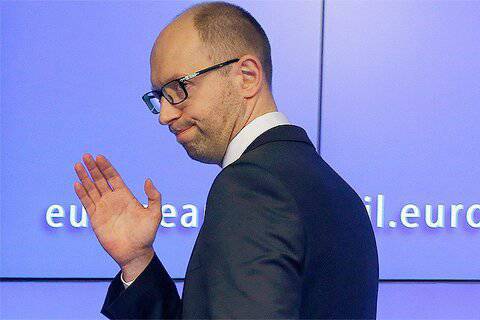 Such information was disseminated during a visit by Yatseniuk to a military unit near Kiev, on the territory of which the National Guard reservists gather. The news agency reports that reservists worked out actions to counteract attacks by criminal groups, free hostages and search vehicles in the conditions of the checkpoint.
Yatsenyuk arrived at the meeting with reservists not empty-handed. He handed the armor vests, helmets and communications equipment to the military unit. It is especially emphasized that the standards of this ammunition and equipment differ from the Russian ones "for the better". This equipment and ammunition came to Ukraine from Western "partners", whom Kiev literally begged for military-technical assistance. How protected will be the representatives of the National Guard under the new helmets and body armor, can show the next "final stage" of the so-called "anti-terrorist" operation in Kiev in the south-east.
At a meeting with reservists, Yatsenyuk talked for a long time about the upcoming rearmament of the Ukrainian law enforcement agencies and that Ukraine will not forget those who laid down their heads for "its unity." In addition, Yatsenyuk recalled that he appealed to the UN with a request to assess the actions of Russia aimed at "disrupting the elections of 25 May."