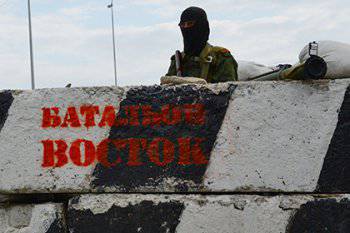 On the morning of May 23, on the Facebook page of the Donbass battalion commander Sergey Semenchenko, it was reported that the fighters of the battalion were ambushed near the village of Karlovka in the Donetsk region.
"Machine gunners, snipers and RPGs are working against the battalion. There are wounded. We cannot move away, because some people are surrounded, "the message says. Later, Semenchenko reported that an armored personnel carrier had arrived at the ambush site.
Newspaper
"Sight"
notes that the Ukrainian army ignored Donbass requests for help.
"All my phone calls to the command of the army forces with a request to send reinforcements were not heard," said Semenchenko.
According to preliminary data, during the collision nine battalion fighters were injured.
Earlier, the regional administration reported that the Donbass battalion controls a number of districts of the Donetsk region in order to ensure safety in the upcoming presidential elections in Ukraine. On May 22, the battalion commander declared that the western Donbass was controlled by his fighters and the Ukrainian authorities, adding that "Donetsk time has come."