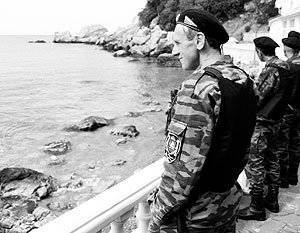 According to the newspaper
"Sight"
, on Wednesday, the deputies of the Crimean State Council approved the law "On the people's militia - the people's team of the Republic of Crimea" in the first reading, which confers official status to the forces of self-defense. Now they can deal with the protection of objects and the elimination of the consequences of emergency. The draft law submitted for consideration by the Acting Head of the Crimea, Sergei Aksenov, may enter into force after its adoption on second reading.
The document notes that members of the people's militia will maintain public order in cities, provide security in the event of disasters, natural disasters or epidemics, and also eliminate the consequences of emergency situations. In addition, they will protect the objects of life support.
It clarifies the publication, the national militia creates the Council of Ministers of the Republic of Crimea. It will take citizens not younger than 18 years with registration in the Crimea. The candidate should not have mental illness, as well as administrative penalties. To guide the activities of the national militia, a republican headquarters is being created.
The new structure will be financed "from the budget of the Republic of Crimea, as well as at the expense of funds of organizations, public associations and other revenues not contradicting the law.
According to Aksenov, the Crimean self-defense has proved its high efficiency.
"She works at posts, helps inspect equipment, vehicles, and I assure you that over 50% of all offenses were prevented during this period by the Crimean self-defense," he said in April.