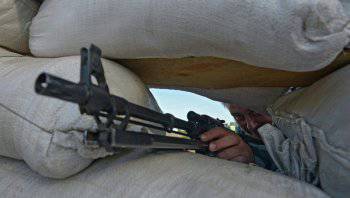 According to RIA
"News"
, during the battle near the village of Rubezhnoye near Lisichansk, seven militiamen were killed, another 16 were injured.
"In the morning, the battle began at ten past five. Previously, we swore at the National Guard checkpoint not to enter the city and not to start shooting. They did not keep their word ", - quotes the words of the militia named Alexander
"RT in Russian"
.
"The fight began between Rubizhny and Novodruzhenka. I was not at the front line, but judging by the sounds, these were guns, RPGs, mortars and infantry fighting vehicles, not counting the automatic bursts and sniper rifles. It began in the morning, it seemed to the 11 clock that the column went to the city, but we dumped the trees and blocked their path. They had a hopeless situation, and they went to the negotiations, "added the militia.
According to him, the military was ready to lay down
weapon
. "Most of the soldiers handed over ammunition and surrendered ammunition, and were ready to retire to the roadblock. We were ready to give them a bus. Armored vehicles, we had to put on the territory of a military unit. In principle, it was possible to put together with drivers, with a full set of soldiers. We were ready to put on contentment and offered tempting conditions, "he said.
However, the commander of the soldiers prevented them from going over to the side of the militias.
"They had an old commander, a captain named Andrei. He opened fire on them, both on the soldiers and the so-called peaceful onlookers. A second fight ensued. The National Guard forces pulled up from the roadblock, fired at the railway station and the battle slowly moved along the floodplain of the Seversky Donets towards Kremennaya. It got Novodruzhenka, once a helicopter flew in, a volley was fired from it. Then they calmed down, "Alexander said.
According to the militia, they captured four infantry fighting vehicles. "Five BMPs were repulsed. Then one had to burn. There are four of them left, on the move and efficient. They are with us now, "he stressed.