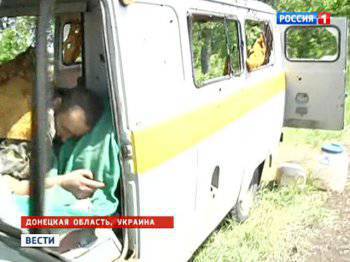 According to the
ITAR-TASS
, with reference to the representative of the militia of the Lugansk People's Republic of Ostap Chernoy, Ukrainian security forces shot down about 30 conscripts, who surrendered to self-defense fighters.
According to Cherny, in the area of ​​Lysychansk a battle began with units of the National Guard and the Ukrainian army.
"When the Ukrainian military on a convoy of armored vehicles approached Lysychansk, the militia tried to enter into negotiations with them, but they opened fire," he said, adding that the military retreated, but 30 of them remained, deciding to surrender.
"30 of Ukrainian military surrendered. All of them (their own) were shot," said Cherny. According to him, a bus with prisoners was shot from a heavy machine gun.
According to RIA
"News"
, the fact of the execution was confirmed by another captured Ukrainian soldier, who identified himself as a soldier of the 30 th mechanized brigade of the Armed Forces of Ukraine. "We moved to Lysychansk in the north of the region. The commander ordered indiscriminate shooting, "he told reporters, noting that he was left in the BMP during the retreat. According to him, the militia rescued him from the bullets controlled by the Kiev military.
In addition, according to the news agency
"Vesti"
, on Thursday morning, militants of the Donbass battalion shot Ukrainian soldiers who refused to open fire on civilians.
As noted by
novorus.info
, eyewitnesses said that the attack on the location of the 51-th brigade of the Ukrainian armed forces ended in a brutal massacre of soldiers who were put on their knees.
"The inhabitants of the Gracious rose to the defense of their homes. The soldiers were ordered to crush the resistance. They refused to shoot at people, and as a result they were punished, - said a source in the headquarters of the self-defense command. "They killed several soldiers, four or five, and then put the 10 man on his knees and shot them." This is the wounded told. "