According to RIA
"News"
, citing an UNIAN agency, due to uncoordinated actions, the Ukrainian
aviation
fired at the positions of its military near the checkpoint in Volnovakha.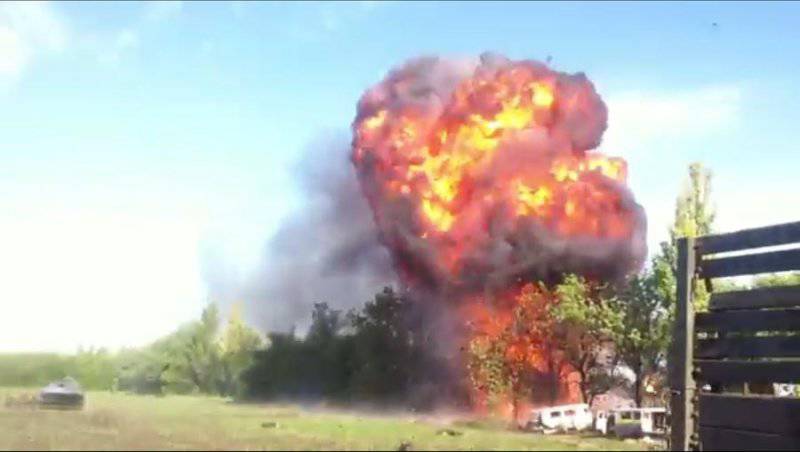 A video of shelling appeared on the network, where you can see a group of soldiers watching the defeated equipment of the Ukrainian military while under the cover of an army truck.
"Then Ukrainian helicopters appeared and, obviously, having no connection with the ground, the pilots fired on the territory. The record shows how the soldiers run away from the scene of the shelling, and how their commander then contacts the command and asks to coordinate the actions of the ground forces and aviation, "the agency notes.
Previously reported
that in the area of ​​Volnovakhi, Donetsk region, the checkpoint of the Ukrainian security forces was fired. As a result of the collision, 16 people died, another 32 received gunshot wounds.
The situation with the attack of Ukrainian aviation commented Igor Strelkov. "What is surprising then? Arrived late and struck where (as they thought) the enemy is still located. And there remained only their half-dead ... And the armored car of Privatbank, shot down during the battle and abandoned by the attackers. Chances are, their losses as a result were greatly added. But I can't say here, "he said.
Meanwhile, as noted by RIA
"News"
, State Department spokesman Jen Psaki said that behind the violence in eastern Ukraine are only supporters of federalization, and not the Kiev authorities conducting large-scale military operations.
"We condemn today's attacks in the east of Ukraine, as a result of which a number of Ukrainian soldiers were killed, dozens were injured," she said, adding that "supporters of federalization" in each case are exclusively supporters of federalization.
In addition, Psaki noted that in most parts of Ukraine it is still calm, "preparations for the elections are proceeding as planned."