Everyone is interested in one question. Will the junta decide on the use of the entire mass of heavy military equipment, including the MLRS, in the cities of the Southeast (DNR and LC)? After all, before the election, the so-called. President of Ukraine is only two days.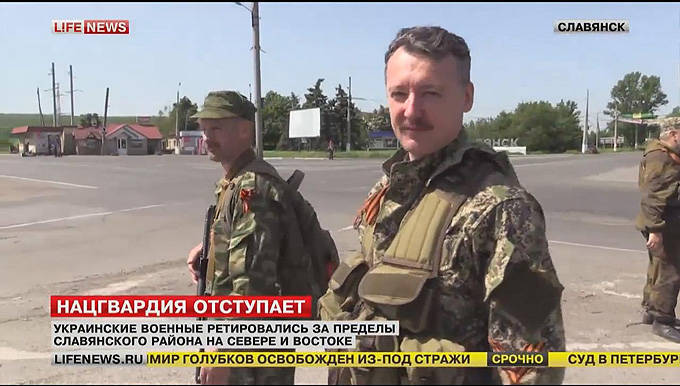 I quote Igor Ivanovich Strelkov's comment:
"They will decide if they finally believe that Russia will not intervene. They will immediately decide. I even sympathize with these freaks (if you can say so about the people I would gladly send to the gallows). They have an alternative:

1) to start a war, get a deafening blow from Russia and, hitting the final project of Ukraine, sink into oblivion (in emigration)

2) do not start a large-scale war, stretch time and ... sink into oblivion without any war along with the "Ukraine project" simply as a result of self-destruction (because a defeat in the ATO will automatically lead to the "collapse" of all this stillborn "Square").

Both options have their advantages and disadvantages.

In the second version, the enemy can hope that with the help of his agents, the "self-proclaimed republics" will not be able to build anything and will fall into the swamp of continuous crime and economic crisis on their own. But "not a fact" - the same was predicted for the Crimea. However, Russia has enough in the accounts of "candy wrappers" to prevent this scenario. And because the plan is largely flawed.

But the first option - "at random" ("Putin is chilling", etc.), for all his riskiness, is very seductive. Roll out "separatists and terrorists" "like God to the tortoise" and enter history this historical misunderstanding (Ukraine) as the "winners of Russia". It would be cool! Wow This even Mazepa failed! Arsen Avakov (judging by his "twitter") is an extremely vain man. Well, just oh, very! He is definitely "for!". Indeed, for such a "knowledgeable and expansive crest", Ukraine is just a "playing field", no more. What is Ukraine? Not a mother, not a wife and not a lover (s). So, one country, where he accidentally and temporarily was lucky to become one of the highest officials and "go down in history." Nalyvaychenko and Turchinov are direct proteges of the United States and also "for" try. Yatsenyuk - just a coward (he wisely pushed away from the management of the operation).

So no wonder they are driving here "Hurricanes".