The Coast Guard of the Border Guard Service of the Federal Security Service of the Russian Federation has been replenished with a new 22100 "Ocean" watchdog. The ship was officially launched in Zelenodolsk (Republic of Tatarstan). The design of the ship was carried out by JSC Almaz Central Design Bureau, and the assembly was carried out at the Zelenodolsk plant named after Gorky. Reports the edition about it
"AiF.Kazan"
.
The peculiarity of the new patrol ship is that it was designed on the basis of the wishes of the Border Guard Service. The autonomy of such a ship is 60 days, the maximum speed - 20 nodes.
Ships of this project, which are being built in Zelenodolsk, will guard the borders of Russia in the Far East, as well as in the Arctic zone of the Russian economic marine zone. Experts evaluate the maneuverability and the low speed of a patrol ship.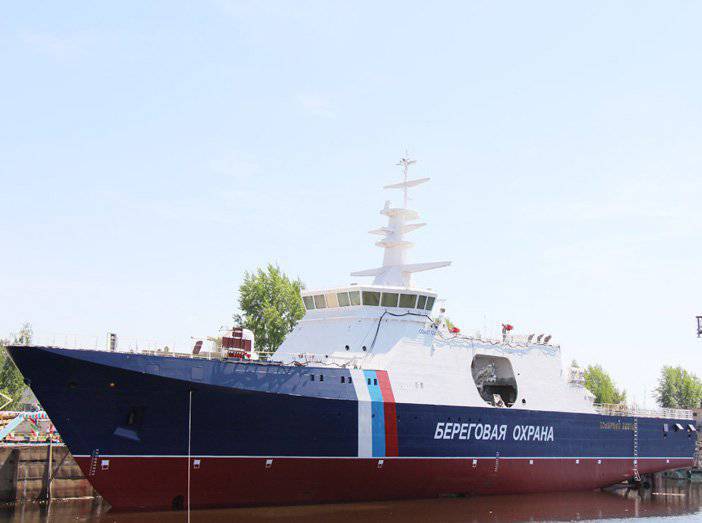 Zelenodolsk plant in its time won a competition for the construction of patrol ships of the project 22100 "Ocean". The ships of this project are also planned to be involved in search and rescue operations, including in arctic conditions.
CEO
JSC "Zelenodolsk plant named after Gorky"
Renat Mistakhov addressed the factory workers to the ceremonial launching ceremony:
We should be proud with you that for the first time we are building a ship of such a displacement. We could do it! And in this connection I would like to express my gratitude to the leadership of the Republic of Tatarstan, the Russian Federation, and the customer represented by the Border Guard Service of the Federal Security Service of Russia. And we, on our part, on the eve of the Day of the frontier guard (28 of May) made a gift to our frontier guards - we launched a patrol ship!