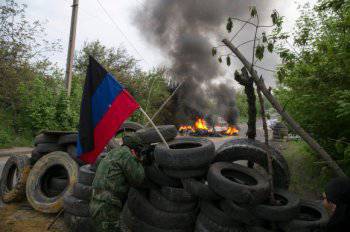 Today I had a chance to talk with a man who tried to get into Slavyansk to join the ranks of Self-Defense. At the entrance to the city, he was detained by the Ukrainian military, arrested, interrogated and sent to Kiev, where he fell into the hands of the SBU. To help Slavyansk did not work, but I managed to communicate with the party opposing him. All the impressions of such communication and important conclusions from them are below.
About how got caught
Getting into Slavyansk is not difficult in principle. If you have nothing forbidden or suspicious, it's not difficult to get into the city, having passed all the posts. Me and my comrades were let down by their own negligence - the military found camouflage in the car, and after conducting a more thorough inspection - a camera and business cards with the image of St. George ribbons. On this we are stung. However, they could have entered the city in secret ways, bypassing roadblocks, but hoped that we could do it legally. For which he paid.
Then we were called separatists and handcuffed in our own car until orders were received from the authorities. Appealed without any sentiment. At night, a fighter came from some other detachment and tried to open the trunk, to my call to stop was threatened with reprisals. Our guards pondered him, referring to the fact that in this case everyone will get from the authorities.
They fed us the same as they ate themselves - American dry rations. I have not tried more rubbish in my life, my stomach twisted right away.
In general, we stayed in this position for a day and a half, and from the conversations we heard, we realized that an unenviable future awaited us and would soon be questioned with addiction. They decided to flee at night, believing that it was better to be killed while escaping than to fall into the hands of professional executioners. But we were lucky, the people we went to stood up for us in Slavyansk. They offered to exchange us for prisoners, but the Ukrainian side, as I understood, rejected the offer. On the one hand, it saved us from reprisals, as they realized that they were following our fate, but on the other, they suspected us that we had a special value for self-defense of Slavyansk. Therefore, soon we were taken by helicopter to Kiev and handed over to the staff of the SBU.
On the ideological pumping and mood of the Ukrainian military
We communicated with captivating us very much. Usually this kind of communication began with an attempt to intimidate us, and after its failure, we began to be ashamed of our position. And then the whole degree of zombie of these people was revealed. For them, we are separatists working in the interests of the FSB of Russia. All the evil that is happening in the Ukrainian land is from us. That we shot people in Mariupol, putting all the blame on the national guard. We forced the residents of the Crimea and Donbass to vote in referendums at gunpoint. This Russian snipers shot "Golden Eagle" on the Maidan. This we do not allow the conflict to be peacefully resolved, since Putin, who guides us, is a pathological sadist and for the sake of his amusement makes fraternal peoples. And so on.
When asked how they could confirm their position, we were told that there were reliable facts and evidence. When asked to share them, they said that they were secret and could not be disclosed so far.
At the same time they are holy, fanatically confident in their rightness and it is impossible to convince them. According to them, they are protecting their land from Russian aggression and are not going to surrender.
True, his superiors, too, curse what the world is worth. At the checkpoints, the military are in abominable conditions - practically without water, with poor rations, in uncertainty. They say that they do not want to attack themselves, but if they are attacked, they will stand to the last.
One commando from Lviv "Berkut" I asked if he was not ashamed of the fact that his colleagues on the Maidan were put on their knees. He replied that the Maidan had betrayed them, and as soon as they were finished with the Russians, they would go to Kiev and arrange a new revolution there. And, in general, they would have dealt with this new government long ago if they had not been distracted in the Donbas.
This position holds the majority. All of them say that they are tolerating the Kiev authorities only because in the period of confrontation with Russia there can be no anarchy, and you need at least someone who gives orders. And everyone hopes for the upcoming presidential elections, in which they will elect a worthy candidate. They do not answer the question who this candidate is. Whether this, too, is still a secret, or whether it is Darth Vader.
In the SBU, everything happened again - at first they tried to press us, threatened to drive "Alfovtsev" in our camouflage with St. George ribbons through the system, but after threats they tried to put pressure on our conscience again. The fact that for us all this time stood up at a high enough level, saved us from humiliation and from reprisals. The degree of ideological torsion of the shoes is not inferior to that of the military from roadblocks.
On the role of the media in this situation
When it became clear that we would soon have to be let go, as nothing could be discovered, the interrogations were replaced by conversations. We tried to convince them of their own wrongness, and they us in ours. Naturally, to no avail. During such disputes, we were often turned on by the television as evidence, not paying attention to the fact that only Ukrainian channels were broadcast there. At the same time, all materials of the Russian media were deliberately defined as false propaganda.
One important point should be noted here. The materials of the Russian media sometimes contain information that does not correspond to reality. Sometimes, for example, a message is illustrated by a non-related video series, as was the case with the recent scandal with "young montage nymphs" at the All-Russian State Television and Radio Broadcasting Company, who shot CTO in the North Caucasus as an illustration of the battles in Slavyansk. If we can give up on such mistakes, then for the Ukrainian side they are invaluable and irrefutable proof of the inaccuracy of information from the Russian media in general. We are at such non-joining pointed constantly. At the same time, the military makes fun of the quality of propaganda of their own Ukrainian media, but they continue to believe in it sacredly.
Another important aspect of the information struggle is, it seems to me, the excessive fixation of the Russian media on the role of law enforcement officers and Bandera in the current situation. It is clear that it cannot be hushed up, but it is exaggerated. This is probably one of the main factors in the reluctance of many Ukrainians to perceive information from our media. According to them, the "Right Sector" now has almost no influence, and they do not pay any attention to clown politicians like I. Farion. They are insulted that they are ranked among the fascists, since they do not consider themselves as such. Thus, mutual hatred grows. On the Russian side - in relation to those who support the Kiev junta, on their part - to those who support the self-determination of the regions of Ukraine. And no one sees a way out of this mutual fomentation. That side believes that war with Russia cannot be avoided - at the approaches to Kiev we saw roadblocks of their own self-defense, awaiting the invasion of Russian
tanks
.
In my opinion, it's time to move a little away from the image of Bandera and switch to an explanation of the role of the United States in the Ukrainian conflict. Among those with whom we spoke, the attitude towards the United States is mostly negative, but they absolutely do not understand their role in what is happening. Perhaps a change in information policy can save us from war.
On urgent tasks of the DPR and the LPR
The main trouble is the new republics of Donbass in the acute shortage of organizational personnel and legal order. What Strelkov said in his famous address is not an empty phrase. In fact, the new government is now concerned only with the carving of places and the redistribution of property. Often this happens in conjunction or in opposition to overt criminal elements. Everyone is so absorbed in sharing that they care nothing else. Every day such power increasingly repels ordinary citizens from themselves - and in this sense, time works against the republics.
The only island of a more or less stable order is Slavyansk. But since his leadership is forced to divert all forces to the defense, then the process of the formation of a new statehood will not begin here. Nevertheless, it seems that it will arise either here and spread to other regions, or never appear at all. I must say that the residents of Donbass, who are not participating in the criminal squabbles and redistribution, are waiting for the order, are ready to support him and will be happy with an example that Slavyansk could demonstrate. Only need to act urgently.
In Lugansk and Donetsk, power is the only one who has
weapon
. Expropriation is in full swing. According to our observations, there is no adequate force, which is concerned with the construction of state bodies.
All groups at checkpoints in the cities of Donbass are subject to different commanders, there is no connection, not even a banal telephone line, between them. Therefore, in the event of a serious assault, they will not be able to coordinate among themselves, to keep competent defense.
Brigades are supposedly formed under Slavyansky for the defense of the city, but in reality they form teams for defending their commercial interests. In relation to Strelkov many who have power in the Donbas have, to put it mildly, wariness. Apparently — because they see in him a strong leader who can put an end to this lawlessness. Disreputable rumors about him are already being launched - from the legend of the GRU agent to the stories about his frostbittenness and cruelty.
About how freed
After it became clear that we couldn't get anything out of us, we were deported. All property was returned, including the car. We took only cash, but it was still at the roadblock where we were detained. In general, we are fortunate that patrons stood up for us. If this did not happen, then now we would be in prison on some fictional accusation.
From the author
I can not reveal the identity of the person who told all of the above, but people who I unconditionally trust vouch for me, and the interlocutor himself seemed adequate and trustworthy. From the above follows the main conclusion - time plays against self-defense. And the point here is not even in the ratio of armed force, but in the processes of post-revolutionary decay, which hit the state fabric and are rapidly spreading. They are not openly spoken about them yet, but testimonials such as this and many others indicate the seriousness of the problem. It is necessary to comprehend and seek a solution.
And whenever possible urgent.