Television of Thailand reported that a military coup took place in the country. The military decided to take this step due to the fact that negotiations between Thai political forces opposing each other did not lead to anything for a long time and reached an impasse during the next attempt to reach a compromise.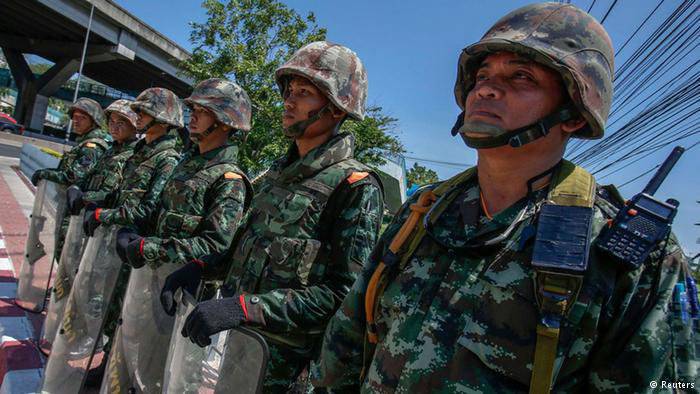 ITAR-TASS
quotes the commander of the Ground Forces of Thailand:
Negotiations between political opponents were unsuccessful, power passes from the interim government to the command to preserve peace and order, created after the introduction of martial law in the country.
It is reported that the military took the participants in political negotiations (supporters and opponents of the Thai government) in an unknown direction.
As soon as the so-called command to preserve peace and order announced the displacement of the country's leadership, in Bangkok, measures began to free the streets and squares of the multi-million city from the demonstrators and their tent camps. A special order was issued on the complete prohibition of wearing
weapons
which concerns, inter alia, the Thai police.
It should be noted that a few hours ago, high-ranking officials of the Ministry of Defense of Thailand stated that they were not talking about a military coup, and that they were simply taking control of important urban infrastructure in Bangkok in order to calm the situation in the capital.
Before the transfer of power into the hands of the military in Thailand, there was talk of choosing the date of parliamentary elections. According to some data, the elections were to be held on 3 August this year. Now the Thai military who have come to power declare that they themselves are ready to carry out a complex of reforms and stabilize the situation in the country. Reports about it
Deutsche Welle
.
Thailand is a country that is very popular among Russian tourists. The Russians occupy a confident third place as foreign tourists in Thailand, second only to the Chinese and tourists from Malaysia. Every year more than 900 of thousands of Russians rest in Thailand.